See more articles
Abbott 33: Hey Ab-bott!
The Abbott 33 is a classic racer cruiser that was built in Canada by Abbott Boats.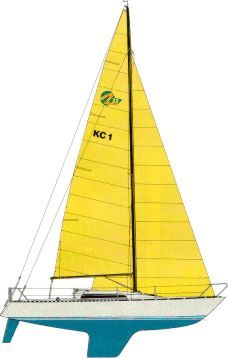 That's the lilting refrain from old Abbott and Costello shows. It's also how some Abbott sailors hail their competitors on the start line. Abbott sailors are a fun-loving fraternity. They enjoy friendly rivalry and their familiar cheer is their way of not taking themselves too seriously.

Abbott Boats of Sarnia, Ontario produced four sizes of Abbotts: the Abbott 28 in '64, the Abbott 22 in the early '70s, the Abbott 33 by 1980, and the Abbott 27. In the '60s, Bill Abbott built wooden Folkboats and the Olympic class Dragon before he built his namesake. Now, he also builds the Soling.

By the late '70s, Juergen Hendel, another avid sailor, saw a test of the Scandicap 99, a 9.9 metre designed by Larson in Denmark. Hendel told Abbott about it and he headed for Europe to try it.

The European boat had a spoon-shaped bottom for ocean racing. Abbott changed it to a vee-shape, with softer lines for the Great Lakes. "We made changes to the keel, moving it a couple of inches, and designed a completely different rudder." What Abbott came up with was a 33-foot boat, weighing only 6,000 lbs. It draws 5.5 ft., has a fractional rig and an 8 ft., six in. beam. This, at a time, when most boats were masthead rig, heavier and broader. Abbott say, "I just kept laying down lines until I found something I liked."

Hendel also liked the long and narrow look. He bought one 15 years ago, and still enjoys racing and cruising. And, what a performer: "To see 16.4 knots on the speedo under chute and nothing ever broke."

Hendel admits the Abbott isn't for everyone. For one thing, it doesn't have much head room. But as Bill Abbott put it, "You're not going to dance down there."

Margaret Evans also like the 33. She says it wasn't designed as a cruising boat and yet, it's easy for two people to dock or anchor. Evans says it also helps break the ice. "It looks unusual and a lot of people ask you about it. That's how you meet nice people on a cruise."

Evans is the wife of David Evans, a single-handed racer, whose Abbott was named Ratso, or Ostar backwards. Evans' dream is to sail the trans-Atlantic single-handed. Meanwhile, he's already won his share of flags, including six single-handed Mackinac races.

Evans also entered his Abbott in the Bermuda One-Two from Rhode Island. In 1989, he took second on the way down in the single-handed start. It was an exiting and wild ride for a lake sailor and boat. Evans headed into 40 mile-an-hour winds and 15-foot seas, the most frightening experience of his life. He says the Abbott was so light, it would drop off the waves and he had to run off, under storm jib only. There was some oil-drumming in the bow and one of boat's ribs snapped. At one point, the toilet pitched off its mount and rolled the length of the cabin. The wind and waves rivalled a race on Lake Huron. Evans was off Goderich where it was blowing 35 to 40, with huge waves. He was below when he heard a tremendous crack.

He looked up and the mast had broken off at the spreaders. "It was just as well," he says, "I wasn't enjoying the race anyway."

Despite all that, Evans claims, "The Abbott is one of the nicest boats I've ever owned, and I'd have no hesitation buying another. It's an exciting boat to sail on all points." Evans has a bigger boat now, but he misses the one-design Abbott races. "It's a good class. If you win the Abbott series, you know you've won because there's such good competition." His comments were echoed by other owners, Yvonne, or "Red" McRobbie says, "We like to see the boat do well, whether it's yours or someone else's." She introduced many women to racing and, in 1984, took first in the Shakedown race to Put-In-Bay, Ohio on Lake Erie. Formerly an all-made preserve, McRobbie won the race with an all-woman crew. She took a lot of ribbing and that's another reason she likes the Abbott. "The owners are good people and there's lots of camaraderie."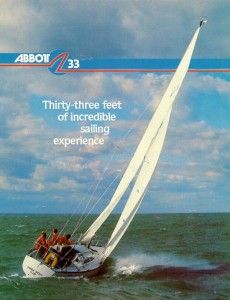 In 1994, for example, the class association presented Bill Abbott with a t-shirt which says, "I've tried, but I can't love a Crescent sailor." It was a tongue-in-cheek reference to the first NOOD race on Lake St. Clair. A large fleet of Abbotts was on hand for the one-design regatta. They were looking forward to racing against Bill Abbott, the godfather of the class, but Abbott never made it. He was tee-boned by a Crescent on the way to the start. Fortunately, no-one was hurt, but Abbott (whose boat is aptly named Surprise) had to limp back to port for repairs.

Jerry O'Brien is the president of the class association. It's an active group, which meets regularly. The association publishes a slick newsletter, full of race results for the overall championship as well as articles on how Abbott owners make their boats go. O'Brien admits, it's a class of good sailors. "You can get in as a beginner and learn a lot." Abbott sailors have one gripe about their boat -- the original engine. Some say it's underpowered and Gene Boivin, who has owned his Abbott for three years, was plagued with mechanical problems. Frustrated at replacing gear shifters and head gaskets, he tore it all out and installed a diesel -- now standard on all new Abbotts.

There are 40 Abbott 33s in existence, and most sail the Great Lakes, from Cleveland and Toledo, Ohio; to Grosse Isle, Michigan; Windsor, Sarnia, and Toronto. There's also one in Winnipeg, one in Georgia and one on the Finger Lakes in New York State.

The most unusual Abbott is sailed out of Kingston by David Surridge. Surridge contracted polio when he was 11 years-old. He's paralyzed from the waist down. He wears braces and walks with crutches. His Abbott is specially rigged and designed so he can cruise and race.

There are no cumbersome running backs, and his main is on lazy jacks for easy take-downs. His headsails are self-tacking. There are extra winches and all lines are programmed to the cockpit so he doesn't have to go on the foredeck. A shortened tiller gives him more room and the anchor is stored on the bow with an electric windlass. A bridge deck allows him access to the cabin. Once Surridge lowers himself down the companionway, there are extra hand-holds and an off-set table next to a double bunk amidships.

"What Bill Abbott did was amazing," Surridge says. "He spoke to a friend who said, 'sit down on your bum and see what you can do. Imagine yourself. You can't stand or sit up.'... But Bill did it and it was fantastic." Abbott gave Surridge the freedom to enjoy his favorite sport and now Surridge races his 33 and wins. He took second place in his class last year.

"The boat is poetry to sail. When I'm on the water, I'm like a bird out of a cage." It's the feeling most Abbott owners have. As McRobbie says, "I don't think there's anything on the water that can beat the boat's handling. I've never felt disappointed. I know what it can do. It doesn't pull surprises. It's not into treachery." It's a fast, forgiving boat that's easily sailed, certainly something to cheer about!

Specifications
| | | |
| --- | --- | --- |
| LOA | 10.15m | 33' 3 1/2" |
| LWL | 8.20m | 26' 11" |
| Beam | 2.50m | 8' 2 1/2" |
| Draft | 1.65m | 5' 5" |
| Displacement | 2750 kg | 6057 lbs. |