See more articles
Hunt 44 Express Cruiser: Video Boat Review
Lenny Rudow reviewed this 44 footer from Hunt Yachts and really liked what he saw, inside and out.




Read Lenny's Hunt 44 Boat Test Notes

I love a boat with tons of elbow room that doesn't make me feel like a sardine packed into a can. And if you want that kind of room both inside and out on your boat, Hunt's 44 Express Cruiser is definitely one you'll want to check out.





To create that open atmosphere, Hunt stuck with a time-tested design: the flush deck. It's the same level from the transom clear on up to the galley down.

Even down in the cabins, Hunt maintains that open feeling. Come on, check it out.

By using a two stateroom layout, each stateroom can be significantly larger than if you added a third. Now you do lose privacy for a third couple, but I say that tradeoff is well worth it.

Where you really see the advantage is here in the second stateroom. Now on most boats, this would be a very cramped cabin. But here we have got a TON of space.

And just look at all the room in the head! I mean, this thing looks like it belongs on a 50 footer. I can even shower comfortably in here.

The galley is ready to cook up just about any kind of meal. You have an undercounter dishwasher even, you gotta like that. With an aircraft locking latch. Refrigerator and freezer. Nice big deep sink right here, a two brurner stove top, a microwave, and plenty of stowage. Although if this were my boat, I'd add rubber bumpers here so they didn't bang.

Now you want to talk about a creative way to use space? When was the last time you saw a 44 footer with a washing machine?

Of course to have that fresh open feel you gotta have a salty breeze. That's why two windows and the sunroof all open up.

Now it's easy to find the stuff that looks nice on a boat. But if you really want to get a better idea of how a boat's built, check out the hardware. Look at these doors: they lock in position, and they're nice and solid. These are going to last for decades.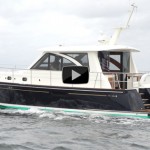 Now obviously the interior woodwork is just striking. But a lot of thought went into the decor in the Hunt 44 Express. To get some more insight into just what they were thinking, we talked to John Hendricks, from Hunt Yachts.

I love this marble countertop, and the high gloss varnish. Can you tell me, what's the concept behind the interior of this boat.

John Hendricks: We wanted to create a light and airy feeling so we selected white highly figured Carrera marble, teak with high gloss varnish.

John, I appreciate all these beautiful windows, but let me ask you about something: with the ultraleather in the seats, isn't there the possibility that all that sunlight's going to damage them?

John Hendricks: No not really. The ultraleather stands up well to the sun, and we've got sideshades and coverings for the windshield, and we have sunshades for the moon roof on top.

Oh good. Well let's go take the boat for a ride.

We cruised along at 23 knots and at that speed we got 1.3 nautical mpg. That's pretty darn good for a 44 footer. At WOT, we hit 33 knots. Now we ran our speed and efficiency numbers in calm water. But we also took this boat through some very rough seas. And believe you me, that Hunt deep-V hull, it can handle it.

Part of enjoying your time on a boat in the outdoors is mealtime, right? Well in the cockpit we've got an electric grill, an icemaker, and a refrigerator.

Handling this boat with the pod drives? It really is a piece of cake. But if you want to get outside, and really see what you're doing? Look at this: Hunt even put another joystick control back here for you.

Interview with Peter VanLancker, President Hunt Yachts

So Peter, one of the things that really struck me is that on a 44 foot boat, you got all the room in here for this garage. How in the world did you guys do that?

Peter VanLancker: Well the arrangement above the garage and the garage are tied together, because the flush deck arrangement that works so well for the interior really gives us the space for the dinghy in the garage. And also it gives space for a large garage which is really easily accessible and functions well.

Now the structure for this boat is built a little bit different for a Hunt. In fact it's all resin-infused, isn't it?

Peter: Yes all the components are resin-infused. The hull sides, the bottom, all the web frames, and a lot of structural watertight bulkheads are resin-infused. And this is done for a couple reasons. One to save weight, and also for strength and rigidity.

Here's another design aspect that I really like about this Hunt: high rails, and a wide walkthrough. That means it'll be really easy for your average couple to run this boat. Well wait a sec. The couple that owns this boat will be anything but average.

—Lenny Rudow