See more articles
Hunt 52 IPS: What's the Difference?
How does a good-sized yacht yacht differ when it's powered by pod drives? I learned a lot on a recent ride aboard an IPS-rigged Hunt 52.
Last summer, I had the chance to ride in Hunt Yachts' latest 52-footer, the sixth in their semi-custom express-sedan series. The new boat is equipped with Volvo IPS 900s, while Hull No 1, which I'd ridden aboard two years earlier, carried twin CAT C-18s (see First Ride on the Hunt 52). Keeping in mind that with help from C. Raymond Hunt Design, each 52 is already customized to the owner's preference, I wanted to learn how the powerplants might change the nature of the vessel.





IPS drives are all about docking, aren't they? Well, not completely, but let's start there. On my first 52 ride, I hadn't docked the 52, but I don't remember it being a big ordeal. I do recall the skipper working the deep-throated diesels in tandem with bow and stern thrusters, alert line handlers standing by. With the IPS 52, Winn Willard, a director of Hunt Yachts and VP of Hunt Design, maneuvered the boat in quietly and easily, and, with nobody else on deck, I hopped off the transom. Then I took a rudimentary video of the repeat maneuver, which shows Hunt Yachts president Peter Van Lancker doing just as I did after the boat is already lying quietly along the dock.



&context=C31f3af2ADOEgsToPDskKArcm9DF-f80KMDHYqN_Tz

You'd expect that a joystick-controlled boat would be relatively easy to handle in the docking basin, and it was. Before I tried docking the boat, I practiced maneuvering in the open water. Using the joystick, I also spun the boat in a complete circle and noticed that it remained nearly within its own wake as it completed its 360.

That gave me some confidence, although I admit that I found myself in a heightened state of awareness as I docked the boat... After all, it's still a big boat, and relatively narrow, so the directional stability is pretty good. Nonetheless, it was pretty easy to recognize and correct small mistakes as I went, and looking back on it, I think an owner would quickly find that the boat's slow-speed handling becomes intuitive, and the whole docking routine would be increasingly effortless.

Driving the boat on the Bay was also quite a bit of fun. Its trademark Hunt Design deep-vee took the corners easily and with power. Our cruising speed was 24.3 knots at 2100 RPM, and wide open we pushed it up to about 30 knots, which was a few knots less than the boat with twin CAT C-18s.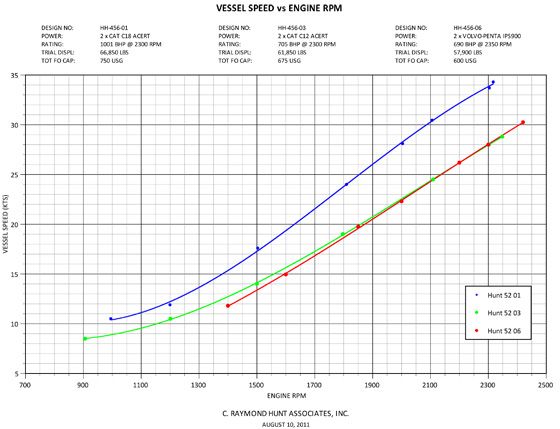 Hunt Design president John Deknatel was also aboard with me that day, and he described to me the results of their tests of speed vs. engine RPM, for which the two engine types had similar performance, and the relative mileage and fuel burn, where the IPS drives showed their efficiency. Click on the graph at left for detailed graphics he later sent me that show the relative performance of the three engine options for the 52. They definitely make the case for IPS.

The other notable performance value I found with the IPS 900s was the relative quiet aboard without the engine noise and exhausts at the transom. As John pointed out at the time, when we were cruising at speed, most of the noise we could hear at the helm or when belowdecks wasn't engine noise at all. It was the modest chatter of the chines cutting through the chop.

Watch our video boat review of the Hunt Harrier 36 IPS

For more information, read On the Hunt, Aboard the Hunt 52 or visit Hunt Yachts.

Here's more information on Volvo Penta IPS.

—John Burnham