See more articles
Hunt Harrier 36 IPS: Video Boat Review
We reviewed three different power versions of the Hunt Harrier 36 and found this IPS version to be especially easy to handle while docking.

Read Lenny's Hunt Harrier 36 IPS Boat Test Notes

Watch our video boat reviews of other Hunt Harrier 36 models:

Hunt Harrier 36 Shaft Drive: Video Boat Review

Hunt Harrier 36 Jet Drive: Video Boat Review

Hunt Harrier 36 IPS Transcript

Sometimes, a new boat makes a splash right away. Sometimes, it takes a few seasons. This Hunt Harrier 36, it hasn't stopped making its splash yet. And one of the reasons why may be the level of semi-customization. Take for example these three boats. This one is an IPS boat. This one is a jet drive. And this one is a straight inboard.

Performance
Now these other two rigs, the jet boat and the straight inboard, they have Volvo Penta D6s which carry 435 HP each. This IPS boat has twin D4s which are 300 HP. You do give up a little bit on top end; this boat turned up to about 34 knots. But on the flip side, you get 1.4 mpg.

Interview

So Peter, tell me: what's the most important thing about the way this boat is built?

Peter VanLancker, President Hunt Yachts: Well Lenny, the most important thing is that it's designed and constructed to meet its naval architect's design displacement. And in this boat, we use materials like PVC cores, knitted unidirectionals, and vinylester resin. And when you combine all those, you essentially build a boat that's durable enough to outlive your kids.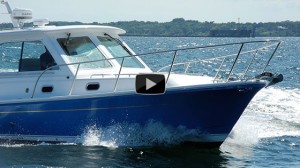 So when you build this boat as an IPS, as opposed to say an inboard, or a jet drive, do you have to change the hull design?

Peter VanLancker: No we don't, we always use the deep-V Hunt hull form that they've been developing over the last 60 years.

Well, with an IPS drive, doesn't that really change the weight distribution of the hull though?

Peter VanLancker: Oh absolutely. Every one of these different propulsion systems we have to take the trim into account. So tankage and placement of different equipment changes from one boat to the other. As well as some of the stringers change.

One of the features that I really like is this custom table. But you guys do so many custom items on every boat. How is it possible?

Peter VanLancker: Well, it's because we've got more designers and engineers than bean counters.

Peter, what are some of the other customizations on this particular boat?

Peter VanLancker: Well we're sitting on one of them, which is these two L-settees. We do a lot of different seating arrangements, and this one doesn't have a helm seat forward, and yet it has a special helm seat on this side, it doesn't have a companion seat forward. The other features on this boat are some of the stainless steel appointments that the gentleman's put on in the absence of teak. Giving it a very durable clean look.

One of the things that I really like is the cabin entry, with the magnetic latches on the door.

Peter VanLancker: Oh yeah, that we got off the big boats that we build, the 52 and the 44. It's a nice big durable piece of hardware. Kind of overkill, but it really latches that door tight.

IPS in Action

You know we've talked about some of the different pluses and minuses with these different power systems, but I gotta tell  you, when it comes to the IPS drive there's no question: dockside maneuverability is its best asset.