See more articles
Hunt Harrier 36 Jet Drive: Video Boat Review
Lenny Rudow explores a third propulsion system on the Hunt Harrier 36, a jet drive that reduces the draft to two feet.




Read Lenny's Hunt Harrier 36 Jet Drive Boat Test Notes

Watch our video boat reviews of two other Hunt Harrier 36 models:



Hunt Harrier 36 Shaft Drive: Video Boat Review

Transcript of the Hunt Harrier 36 Jet Drive Video Boat Review

We're testing Hunt's Harrier 36. Now we've tested this boat in an inboard version, and an IPS version, but today? We're on a jet boat. And luckily we've got Ray Hunt with us to tell us why people get jet boats.

Ray Hunt, Director of Engineering: Well the main reason is so that you can bring the boat into shallow water, and the draft is only two feet. And you don't have to worry about lobster pots.

Well now cruise, we did better than 26 knots and got more than 1 mpg. But you know, what really surprises me is top end is over forty knots. What's the deal?

Ray Hunt: Well the jets are extremely efficient at high rpm.

Now here is one of the really cool things about the jet boat. Those guys on the PWCs think they're having fun?!?

Now having fun with your boat's all well and good, but let's say you see a log in front of you. With the jet rig, you can do a quick dodge.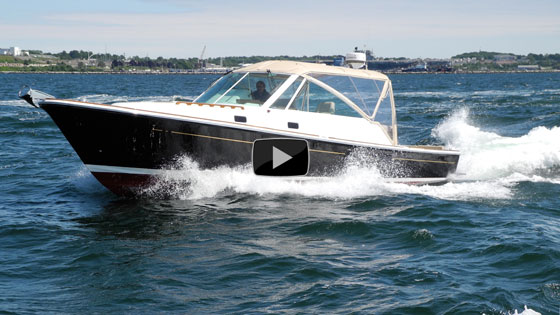 Customization

So Peter tell me, how do you help your customers decide what their boat will look like?

Peter VanLancker, President, Hunt Yachts: Well we have a selection of fabrics here that they can go through. And then there's also some selections of wood and different types of trim, and then the countertop materials for them to choose from.

Peter, are you the fashion expert?

Peter VanLancker: No, I'll consult with you on the propulsion systems and the structures and some of the appointments of the boat. But we have some design experts that will consult with you on the fabrics, the wood choices, the countertop materials, and the types of finish that are available on a Hunt.

Wrap

Whether draft is the most important thing to you, or you just want a boat that can dance on the head of a pin, either way, while there's a learning curve involved with a jet rig like this, for some folks it'll be the perfect option.

—Lenny Rudow