See more articles
Hunt Harrier 36 Shaft Drive Boat Test Notes
Detailed notes from our review of the Hunt Harrier 36 traditional straight shaft model
Watch the Hunt Harrier 36 Shaft Drive: Video Boat Review





Overview
Build a highly customizable pocket-yacht that's available with three different power options, including jet drives, IPS drives, and in this boat, traditional inboards.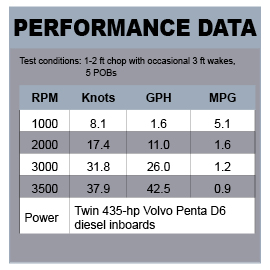 Concept


Couple the classic Ray Hunt designed deep-v hull with modern power systems.


Allow the owner to arrange and accessorize the boat as they desire.


Construction


Vacuum-bagged and cored hull and deck.


Trimmed as desired, with teak or stainless-steel accents.


Performance


1.2 miles to the gallon at a cruise of around 32 knots means the inboard version is less fuel efficient but faster then the same boat with IPS.


Top-speed of 37.9 knots also beats out the IPS drives, but isn't as quick as the jet drive boat.



Handling

Features



Bridgedeck rises at the press of a button to provide easy access to the power systems.


High level of customization in the bridgedeck arrangement and trim level. You can also get the boat with or without a full hard-top.


Gotta love that Ray Hunt deep-v hull—it handles waves like a boat with several more feet of LOA.