See more articles
Hunt Harrier 36 Shaft Drive: Video Boat Review
This Hunt Harrier 36 Shaft drive shows off the value of simplicity and tradition.




Read Lenny's Hunt Harrier 36 Shaft Drive Boat Test Notes

Watch our video boat reviews of other Hunt Harrier 36 models:




Hunt Harrier 36 Shaft Drive Transcript

One of the three engine options available on the Hunt Harrier 36 is straight inboards. If you're a traditionalist, this will be the rig for you. But going with straight inboards does not mean you're left in the dark ages. Just look at this modern raising helm deck, which gives you excellent access to the power plants.

Performance

This rig gets solid performance, cruising at around 31.8 knots. Now at that speed, we were getting around 1.2 MPG. Top end? 38.2 knots.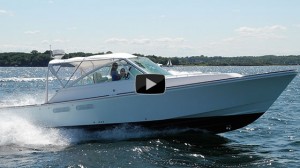 Features

Keeping with the simple traditional theme, the owner of this boat chose to have just a helm chair and a passenger's chair. And I gotta tell you these Stidds... ah, I love 'em!

When we came to review this boat, one of the first things we noticed was how simple the owner kept it. Check out the bow deck and you'll see that there are no bow rails, no ports, it has a nice simple sleek look to it.

Another highly customizable part of the boat is the bridgedeck. Now you can have different forms of seating, and you can get nice accessories like this wet bar.

Wrap

Reviewing the Hunt Harrier 36 with the straight inboards? That reminded me that sometimes, simpler—traditional—it's a good thing!