See more articles
Hunt Harrier 36 with IPS: Perfectly Spectacular!
Rigged with Volvo-Penta IPS drives, the Hunt Harrier 36 performs just like it looks—and "spectacular" is the right word to describe it.
I'm standing at the helm of a Hunt Harrier 36, looking at a 40' long opening at the pier. There's a half-million dollar yacht at one end, a center console fishboat at the other, and a 20-knot cross-breeze is doing its best to throw me out of kilter. Getting the boat alongside that dock is going to be like parallel parking a Hummer in mid-town Manhattan during rush hour. And, as luck would have it, both the President of Hunt Yachts and my boss are watching—this is the stuff nightmares are made of.





I let go of the steering wheel in favor of the helm station's diminutive joystick, give it a few twists and turns, and in 42 seconds flat the Harrier is hovering within inches of the dock. That joystick coupled with the IPS pod drives gives you the ability to spin the boat, move it sideways, and inch it back and forth. It's not like parallel parking a car—it's actually easier. Just watch our Hunt Harrier 36 with IPS video boat review, and pay close attention from 2:50 to 3:32; you'll see the docking maneuver I'm talking about.

Dockside performance is one thing, but open water performance is a completely different matter. In this regard, the pod drive option has its plusses and minuses. On the positive side, efficiency is excellent. At a cruising speed of about 30 knots, the Harrier 36 with IPS drives delivered 1.4 miles to the gallon. I ran a jet drive version of the 36 and an inboard 36 on the same day in the same conditions, and found that they got 1.1 and 1.2 miles to the gallon, respectively. So there's no doubt that the pod drives are the most efficient power package.



What's the down-side? The pods don't offer as much top-end speed, reaching 34 knots at WOT, versus 40 knots for the jet boat and 37.9 knots for the inboards.

Speed and efficiency aside, another strong suit of the Hunt Harrier 36 is its seakeeping abilities. That should come as no surprise, considering the Hunt deep-V heritage. The Harrier rides on a 21-degree transom deadrise hull, which is laid up with biaxial E-glass and foam-cored and vacuum-bagged—as is the deck. This ensures the best strength-to-weight ratio, as well as providing a solid feel underfoot when the boat strikes waves. Now add in the low center of gravity and the forward-rising chines. This hull chews its way through a head sea, refuses to bow-steer when overtaking waves in a following sea, and maintains stability in a beam sea. After spending an entire day running through two and three footers in all different directions, I give this boat a no-reservations thumbs-up for its ride.

Not only is the Harrier available in different power configurations, it's also available in different configurations above-decks. Cockpit and helm seating, trim level and type, and soft or hard top options are all up to the individual owner. That's one of the perks of working with a builder like Hunt, which may be called "semi-custom" but certainly leans more towards "custom" than it does towards "semi". In fact, the difference between one Harrier and the next is striking. Like a boat to have lots of brightwork and a classic look? Hunt will finish the boat off with a tree's worth of teak. Like wash-and-go convenience and low maintenance? Say goodbye to the teak, and hello to slick gelcoat. And if gleaming stainless-steel pleases your eye, that's no problem, either.



Belowdecks, the Harrier's layout is a bit more consistent from boat to boat: a (convertible) dinette and hanging locker to port, V-berth forward, and a stand-up head and galley to starboard. The Hunt carries 50 gallons of freshwater, has a six-gallon water heater, and the galley includes a stove, refrigerator, sink, and microwave, so weekending on it will be plenty comfortable. And as you enter that cabin, be sure to take note of the teak entry door. Hunt fits it out with a slick magnetic catch, which is much stronger than those usually seen on boats of this size.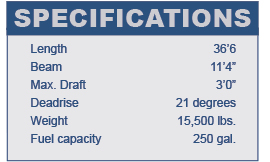 Another trait which remains the same on the different Harrier incarnations is the engine room access: at the press of a button the entire helm deck rises up on lifters, providing you with plenty of elbow room for maintenance chores. The cockpit is also more or less standardized, with a pair of sleek stainless gunwale fishing rod holders and a hot/cold transom shower. Want more additional seating in the cockpit? Naturally, it's no problem. But I'm betting you'll have a hard time sitting back there. After you spend some time running the Hunt Harrier 36, the helm chair is where you'll want to be. It's so darn much fun running this boat that you won't be satisfied sitting still for too long. I know that's how I felt—even with Hunt's President and my boss looking over my shoulder.

For more information, visit Hunt Yachts.

-Lenny Rudow