See more articles
X-Yachts IMX-45
X-Yachts IMX-45: The latest from X-Yacht's Niels Jeppesen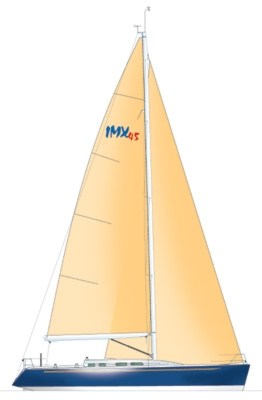 Building on the success of their IMX40, Denmark's X-Yachts is about to launch their new IMX45. Design work began in the summer of 2000, the first boat has already been purchased by Italian entreprenuer Emanuele Giacomelli (founder of the eponymous sports product company) and is undergoing sea trials in the North Sea. From there it will be trucked overland to Lavogna Italy, near Genoa. This first IMX45 will make it's Grand Prix race circuit premiere at the International Week of Alassio in mid-March.


Having sold over 80 IMS40s, the company was under considerable pressure to build a "big sister". A team of 15 yacht designers and boat builders were assigned to the project at X Yacht's headquarters in Haderslev. A limited production run of just 5 or 6 boats is scheduled for spring 2002 delivery.

The IMX-45 is being built in accordance with the European CE-Certification, meeting the requirements of the CE-directive 94/25/CE for recreational crafts.

These rules require a certain minimum standard of hull and deck strength, structural bulkheads and stringers, keel and rudder and their attachments to the hull, safety and stability, engine installation, gas installation, sea cocks, manuals and documentation of all major installations.



The IMX 45 will be offered with optional key elements for cruising i.e. anchor box locker, deck recessed headstay furler drum, extra removable main cabin cabinets, larger tankage, spray hood, teak in cockpit, which makes her even more attractive for the yachtsman who favors the cruiser element in a racer/cruiser.

X-Yachts believes that it's work on the bow lines and keel will result in faster performance without a rating sacrifice, particularly in regards to downwind and reaching. With the hope that this doesn't sacrifice any upwind performance. X-Yachts' co-founder and chief designer Niels Jeppesen led the project.

Great attention has been put into studying and analysing the IMX 45's performance under IMS as well as under IRC. The calculated IMS GPH (IMS 2001) is 568 sec/nm.

Specifications
| | | |
| --- | --- | --- |
| Length overall | 13.76 m | 54.14 ft |
| Length waterline | 11.97 m | 39.27 ft |
| Beam (max) | 4.15 m | 13.61 ft |
| Draft | 2.75 m | 9.02 ft |
| Displacement | 9100 kg | 20061 lbs |

Rig Dimensions
| | | |
| --- | --- | --- |
| P | 17.05 m | 55.94 ft |
| E | 6.00 m | 19.68 ft |
| IG | 18.00 m | 59.06 ft |
| J | 5.04 m | 16.53 ft |
| Mainsail | 58.8 m | 632.9 ft2 |
| 150% Genoa | 68.0 m | 732.0 ft2 |
| Spinnaker | 155.1 m | 1670 ft2 |

X-Yachts A/S
Fjordagervej 21
DK-6100 Haderslev, Denmark
Tel. +45 74 52 10 22
Fax. +45 74 53 03 97
E-mail. info@x-yachts.com www.x-yachts.com