See more articles
Laser Pico: Indestructible Import
Laser Pico sure to be favorite among schools, renters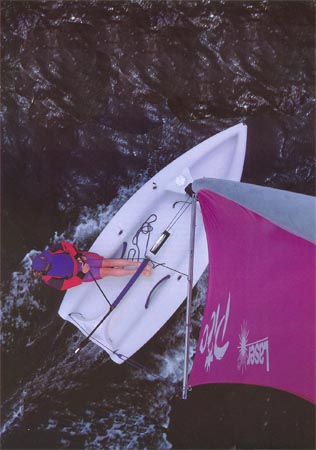 The Laser Pico has been imported to North America for just three years, but it has had many successful years in the European market. Designed by Olympic medalist Jo Richards, it combines ease of rigging, phenomenal durability and surprising performance.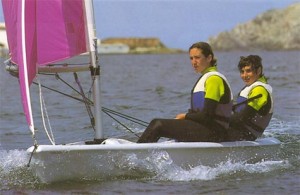 The Pico will doubtless be as popular among U.S. sailing school and rental operations as it has been in Europe. The boat is completely "tourist proof." Built of rotomolded plastic by Hardigg Industries (they build carrying cases for military hardware and are one of the world's largest rotomolding firms), one could literally drop the hull off a rooftop, sand the scratches off, and sail it the same afternoon. Fleets are well established at the major sailing destination resorts in the Mediterranean.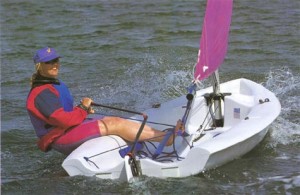 Polyethylene plastic has had some serious drawbacks in sailboat hull construction in the past, primarily because it's flexible and heavy. The construction of the Pico is revolutionary, in that it is done in three steps: first an outer rigid shell is created, then a low density foam core, and finally a rigid inner shell. Together, the layers form a sandwich construction that makes for relatively light weight combined with sufficient structural rigidity. The ride upwind is smooth, despite the flat underwater profile.

While it will take some determined effort to punch a hole in the hull, if you do, you will have to bring the boat to the dealer for repairs. Unless you own a plastic welding gun and are adept at repairing deep gouges in downhill skis, this is a qualified repair-shop-only job.

While easy to rig and impervious to beginner bang-ups, this is by no means a beginners-only boat. Experienced sailors will find the Pico responsive, with well-balanced steering.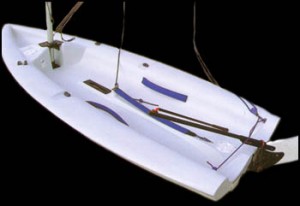 With a weight of just 131 pounds, this is an easily car-toppable boat. The cockpit can hold three people (if you're all close friends). It can easily be single-handed, even with the optional jib in its "Pico Plus" configuration. At 64 square feet, the mainsail is a bit more than the Laser Radial (60 square feet). Add the optional 12-square-foot jib and the total sail area equals that of the standard Laser.

The hull is white and there are three deck color options: grey, teal and mango.

Boat Specifications
| | |
| --- | --- |
| Length | 11' 6" |
| Beam | 4' 8" |
| Mainsail | 64 sq. ft. |
| Jib (optional) | 12 sq. ft. |
| Crew | 1-3 |
| Weight | 131 pounds |
| Price | $2,275 / $2,425 Pico Plus |

The Pico is distributed in North America by Vanguard Racing Sailboats, builders of the popular Sunfish and Laser dinghies.

Vanguard Racing Sailboats
200 Highpoint Ave.
Portsmouth, RI 02871
phone: (401) 683-0960
fax: (401) 683-0990
Email: info@teamvanguard.com
www.teamvanguard.com