See more articles
Invincible 43 Open Fisherman Review
The 43 Open from Invincible Boats delivers legendary fishability, adaptability, and prowess.
We know that so many fishing boats are purpose-built, and sometimes this limits the scope of our fishing ventures. Enter the Invincible 43 Open Fisherman. Invincible Boats is ready to rewrite the narrative with this new model that is specifically designed for adaptivity and prowess. Let's break down the major highlights and features of the 43 Open Fisherman.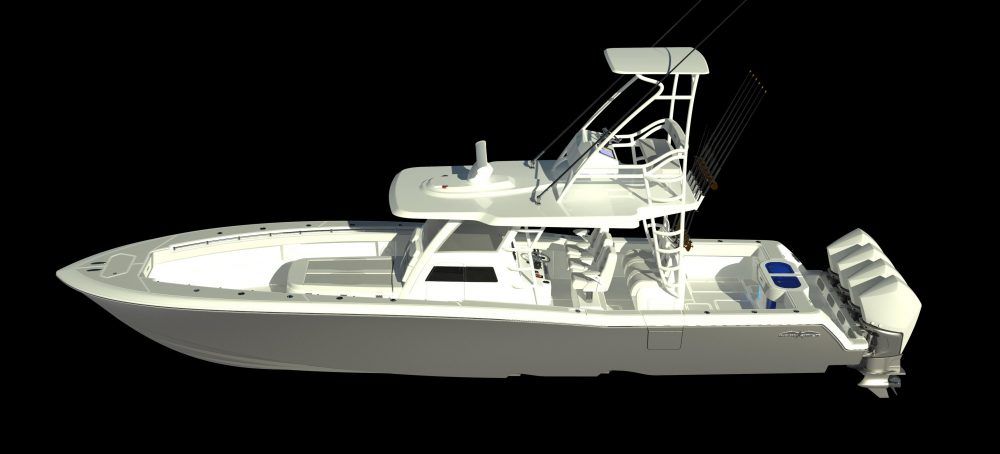 Specifications:
Length Overall (LOA): 42' 9"
Beam: 11' 7"
Deadrise at Transom: 22°
Dry Weight: 13, 800 lbs
Fuel Tank: 675 Gallons
Overview
The 43 Open builds on Invincible's legacy of tried-and-true tournament sportfishing machines. This new model has blue-water tournament capability and will be just as at home on coastal bays. Quad and triple Mercury power options deliver high-caliber ability. Max her out with 1,800 HP to get the full effect.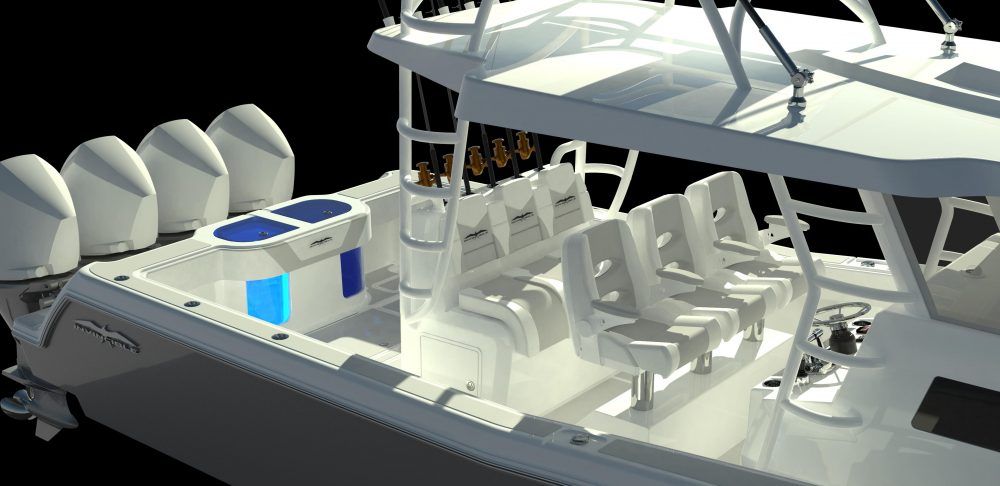 Background
The Invincible 43 Open Fisherman was announced in February 2022 and will be available as early as 2023. This new model expands Invincible's line of monohull center consoles. The Invincible 43 Open Fisherman integrates features that anglers may have lusted after on their previous models.
The 43 Open Fisherman is built with the same hull as the 42 Open Fisherman and Invincible's center cabin models, which the 43 will replace. The 43 deviates from its predecessors with a new liner and cabin, as well as with its double-row seating and extended helm. Invincible found a clever way to retain a large fishing space by pushing everything forward for the additional row. Another new addition is the hardtop option. It allows for more electronics and a rear-entry second station. This new hardtop is a joy for fishing: anglers will have increased visibility for sight-fishing and more comfort up top. Added electronics also give captains more options for where they'd like to helm to boat.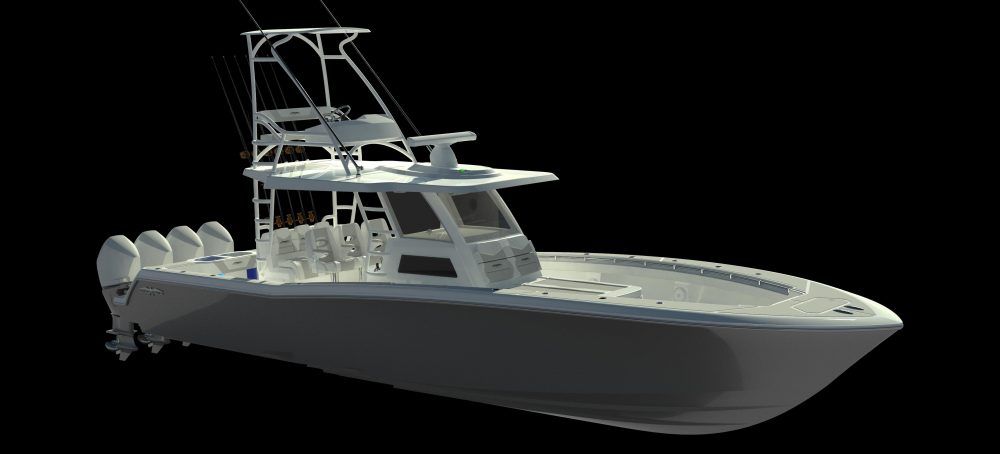 Highlights
There's no denying that the Invincible 43 Open Fisherman is a fishing battle wagon. Its key features are angler-centric, with 360-degree walkaround fishability as a key design element. This is ideal for anglers looking to catch big fish. It cuts down tripping hazards and eliminates the pain of limited mobility. Tournament and casual anglers alike will appreciate this, especially paired with the single-level deck.
Likewise, the redesign features a fully-lined interior room for a full-sized head. It's more of a necessity than a luxury, given how long anglers will be aboard this vessel. It has a wicked-impressive range of 600 nautical miles. That's easy enough to blast the 43 Open Fisherman to the canyons for a full day of bluewater trolling and back. The boat can also be jazzed up to facilitate trolling. Opt for the custom top, and choose between Rupp Top Gun Revolution Outriggers, Rupp Carbon Fiber Outriggers, or Gem Deluxe Outriggers with carbon fiber poles. These aren't the only features that can take the hard top to the next level. Deck it out with a double rod rack and rear support legs, LED spreader lights, windshield enclosure, or a folding tower with dual stations. The hard top is a critical element of this redesign, significantly adding to the fishability of this boat.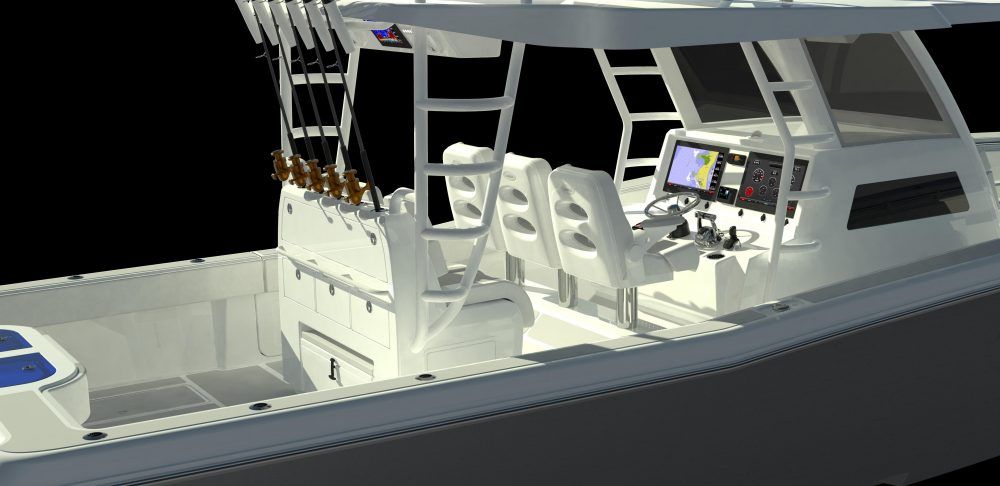 Fishing Features
The cockpit is large and open, with dual fishboxes plus one up front for easy access. For bait and small-to-midsize fish, the 43 Open Fisherman has two standard livewells and one optional. The two standards are at the transom, with large aquarium windows. However, long days on the water may warrant going for the optional third. The well is in-floor, nestled right between the fishboxes and its massive capacity makes it tough to run out of bait, even on long trips.
The optional features afford this model more versatility. Deck the boat out for nearly any kind of fishing desired. Many rod holders already come standard, and adding optional extras seriously increases rod capacity. Additional holders are possible at the gunwale, console, under the gunnel, and even on swivels. Although your everyday angler might not find electric reel hookups essential, tournament anglers may be grateful to find them aboard. Similarly, additional gaff holders are optional extras. For fast-action fishing, the standard saltwater and optional freshwater washdowns are a must! Of course, anglers are looking to bloody the deck, but a shiny boat requires that it be cleaned up quickly after any action.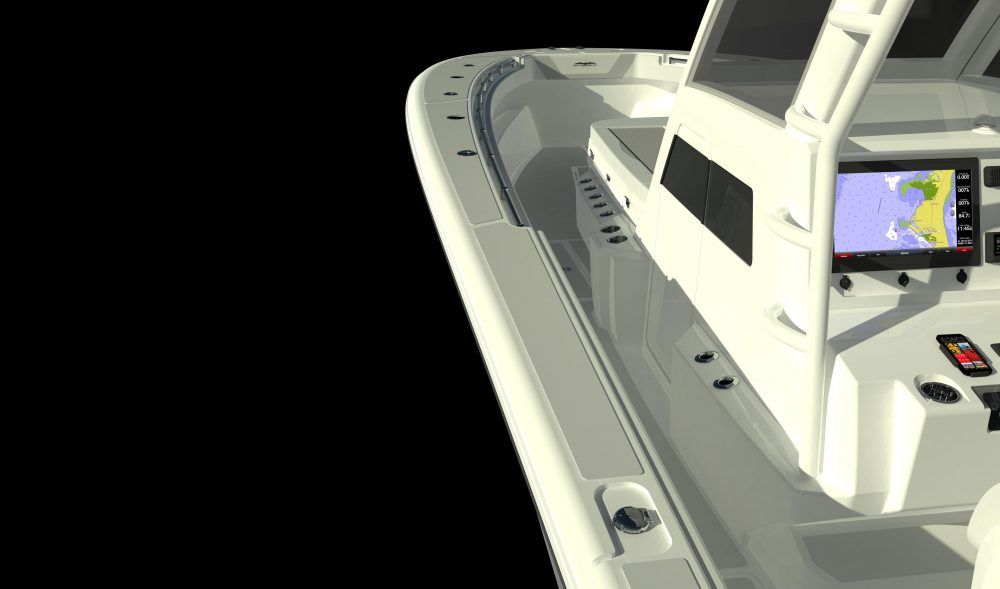 You can find the Invincible 43 Open Fisherman and other Invincible Boats for sale here. Want to know what features to look for on your next fishing vessel? Check out this fishing boat guide.