See more articles
J/97E Video: First Look
The 2015 J/97E is the latest and greatest, from the epic sailboat builder J/Boats.
If you're a sailor, you've most certainly heard of J/Boats. This builder is nothing short of iconic in the sailboat industry, and with good reason—since 1977, they've built over 7,000 sailboats. And the original J/24 remains the most popular offshore keelboat in the world.

Now they have a new offering: the J/97E. This is a dual-purpose racer/cruiser, first introduced in 2009 and improved for this model year. Though its interior is finished to a grade well above hard-core race boats, it's still a strong performer with many regatta wins to date. At the London boat show, our UK reviewer Rupert Holmes had the chance to step aboard a J/97E and shoot this short First Look Video.


As you can tell, the cabin's interior is a step beyond what one might expect in a racer/cruiser, and it's been improved for 2015. Everything you need to go cruising is present and accounted for, from the galley to the enclosed head, yet according to Rupert this boat is still a strong performer on the race course.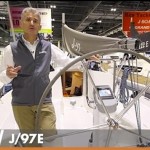 Naturally, considering the popularity of J/Boats, this isn't the first time we've covered one of their models on boats.com. To get the straight scoop on some different models, check out these other reviews:

J/111: Ready, Set, Go
J/88 Boat Review: Going Sailing for Work
J/Boats J110 Design review
J/Boats J/24: Oldie But Goodie
J/Boats J/109: Racer/Cruiser
J/Boats J/109 Design Review
J/65: Cruising to the Max

Is a J in your future? You can get more info at J/Boats, or take a look at these J/Boats listings on boats.com.