See more articles
Jarrett Bay 34: A Walkaround Boat with Flare – and Outboards
The only semi-production offering from custom boat builder Jarrett Bay offers both walkaround convenience and outboard power in a heavy-hitting fishboat.
If you like walkaround boats, gobs of Yamaha F-350 or Mercury Verado 350 four-stroke outboard power and Carolina Flare, but you want a one-of-a-kind boat, there aren't many builders out there that can fit your needs. In fact, you'll only find one that combines all of these qualities along with semi-custom production: Jarrett Bay. Lucky for you, their 34 is a kick-butt fish-killing machine that any die-hard offshore angler would be psyched to fish from.





The 34 is simply a scaled-down version of Jarrett Bay's big boat hull design: a sharp entry surrounded by acres of Carolina flare, lots of displacement carried in the convexity amidships, tumblehome in the transom and hullsides, and a moderate 14-degree deadrise aft. The upside to this design is awesome seaworthiness, a dry ride, and efficient planing. The downside is a loss of interior volume, since the bow of the boat is so fine; don't expect to find much room in the cabin, which consists of a V-berth, mini-galley, and a stand-up head.

This is the only model Jarrett Bay builds with outboards, and in this size range, it certainly makes sense. Performance is far better than you'd expect if it were rigged with inboard power; cruising speeds are around 30 knots, and you can expect to get about a mile to the gallon. If you really want to minimize the time you spend on long runs to the canyons, you can opt for triple 300's instead of twin 350's. But sheer speed isn't what this boat is all about—the ability to maintain speed in nasty conditions is far more important. And since the outboards are mounted on a bracket they offer a pivot-point far aft, so handling at speed is excellent and dockside maneuverability is also good. Yes, you'll have to be prepared to work fish around those props, but that's the case on virtually all outboard-powered sportfishers these days.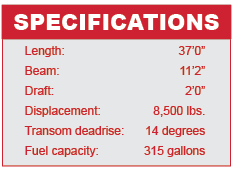 What makes this a semi-custom boat? Very few of the 34's are built—just a handful every year—and Jarrett Bay can tweak and change the accoutrements and details to fit an owner's needs. We're not just talking about hull colors and upholstery patterns, either. Cockpit layout, rod holders and boxes, livewells, rigging stations, and other items can be placed, omitted, or included as you choose. In fact, the choices are so wide-ranging that Jarrett Bay doesn't even call this a semi-custom production boat, they call it a semi-production custom boat. And they've got it right; this boat will both raise fish and turn heads enough to stand out from the rest of the crowd.

For more information visit Jarrett Bay Boatworks.