See more articles
Jeanneau Sun Odyssey 509: Comfortable, Versatile and Clever
We take a second look at the Sun Odyssey 509, to find out if two sailboat experts – one German and one American – agree.
The Jeanneau Sun Odyssey 509 is the new flagship of the "9" series that was launched two years ago, with the ground-breaking Sun Odyssey 409. Since then, Jeanneau has added four sisterships to fill out the line by offering a model at every popular cruising size and price point (379, 439, 469 and now 509). German sailing expert Michael Good gave us our first look at this new model in his review of the Sun Odyssey 509. But we wanted to take a look at the same boat, through American eyes.





The Jeanneau 509 is a hand-laid solid fiberglass layup with an injection-molded balsa core sandwich deck. The plumb bow, hard-chined hull, low coachroof, and clean, uncluttered decks give it a no nonsense exterior appeal. Auxiliary power is supplied by a 75 hp. Yanmar with Saildrive.

Jeanneau typically has large cockpits and the 509 doesn't disappoint. You could park a small car in there. Twin helms allow for high or low side driving and provide a nice walkthrough to the aft transom, which drops down to form a swim platform. A drop-leaf table sets up for comfortable dining, or folds down and provides good handholds and foot bracing when heeling.

Two keel configurations are available for deep or thin water, both with a bulb to provide a 31-percent ballast-to-displacement ratio. A deep spade rudder allows the boat to turn in her own length and keeps her responsive. But the interior is where the 509 really shines. It seems that wherever you look, there's something clever and unexpected. The standard layout includes twin cabins aft and a plush master stateroom forward with a centerline berth, an ensuite head with separate stall shower, and a vanity desk to starboard.



It's refreshing to see a dedicated navigation desk on a production boat, where nav stations have been mostly absent recently. The aft-facing desk is large enough to hold a full-size chart and it shares a seat with the U-shaped main settee. Underneath is a unique locker to hold manuals or magazines and a drawer for odds and ends. Across from the nav desk is a very functional galley with twin sinks on the centreline, oodles of storage lockers and a second front-loading fridge or wine locker that is accessible directly from the saloon to keep guests out of the cook's way in the galley.

A few things which are less than ideal include the sheet winches that are shared between the genoa sheets and the double-ended mainsheet. There's no room to add a set of secondary winches, which would come in handy. Also, the single backstay means the driver needs to duck when switching from one helm to the other, and it gets in the way when stepping on or off the swim platform. Also, the lifelines are just low enough to trip tall people and potentially send them overboard. Jeanneau is not the only builder to go the way of low lifelines. Dufour, Hanse and Beneteau do it as well and although I understand the aesthetic appeal, it's not a good trend for safety.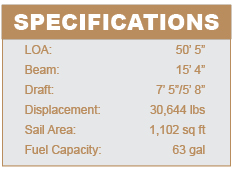 Due to its size and immense interior, the Sun Odyssey 509 is a perfect package for anyone with a large family or lots of friends. The boat will sleep up to 11 and its enormous cockpit can hold just as many for dockside entertaining. But despite its size, the boat is also manageable with a versatile sailplan that includes a large genoa, a slightly overlapping jib, or a self-tacking jib (all with separate tracks) and the option of a standard or in-mast furling mainsail. It's most definitely a boat that offers choices.

For more information, visit Jeanneau.

-Zuzana Prochazka