See more articles
Jeanneau Velasco 37F Video: First Look
Check out this short video to get your first look at the 2015 Jeanneau Velasco 37F.
For 2015 Jeanneau has a new Velasco 37F flybridge cruiser, and our UK reviewer Alex Smith discovered it at the London boat show.


The 37F represents quite a progression in this line, since Jeanneau brought out the 43F (based on the 43 Velasco introduced previously) just last year. Alex shot a First Look Video of the 43F, as well. Meanwhile, they've also expanded the express line with boats like the Jeanneau Leader 40.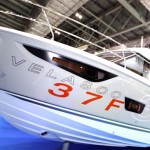 Clearly, Jeanneau has its sights set on becoming a power in the powerboating world, as well as that of sailboats. And, according to Alex, there does seem to be a very real progression in these boats and improvements from model to model. In fact, although most people associate Jeanneau with sailing, they've been building powerboats for over 50 years. Yes, you read that right—they introduced their first fiberglass powerboat, the Calanque, all the way back in 1961. And lest we forget, Prestige powerboats are also built by Jeanneau. (You can read about the latest and greatest model released by that line in Prestige 750: The Lap of Luxury).

For more information about the Velaso line or any of the other powerboats built under Jeanneau's banner, visit Jeanneau.