See more articles
Jupiter 38 Cuddy: Fish in Style, Overnight in Comfort
This offshore angling machine is bad news for big game, but has some soft spots for the crew.
Jupiter Marine seems to abide by the philosophy that says when you find something you do really well, then throw the throttle forward and don't veer off course. This Florida-based builder has been in the business of crafting robust, finely finished center-console fishing boats for 35 years. Its line is comprised of solid, seaworthy and single-purpose models for uber-serious anglers. Although the look of a Jupiter could appeal to any boat lover with an appreciation for strong and sleek lines, admirers should note that Jupiter owners really don't have time for anyone who thinks of trolling as a trifling matter.





The 38 Cuddy is the builder's newest model, and it has all the features that have made Jupiter a respected name on the offshore tournament circuit. Among them is the deep-V hull designed by Donald L. Blount and Associates, a firm that's designed running bottoms for yards like Rybovich and Buddy Davis. With 24 degrees of deadrise aft, the 38 can sprint when the waters are flat but also gnaw through chop at a nice clip when seas get interesting.

The 38 also has enough displacement to support a pair of four-stroke Yamaha F350s.

The boat can take two or three of these big V-8 outboards, but a pair should satisfy even those performance-obsessed kingfishermen: She'll cruise near 35 mph and top out near 52 mph. That ride is balanced with a wide beam and ample freeboard aft—a winning combination that makes for a stable and comfortable platform. Yamaha's digital throttle actuators coupled with power steering provide easy handling at the dock, but for even more control there are optional bow thrusters.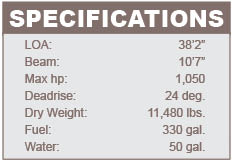 Although Jupiters are perhaps best known for their dependable ride and construction, the builder doesn't shy away from incorporating clever amenities for battle-weary anglers. Thickly cushioned seats with armrests and bolsters at the helm provide good support for the captain and a companion. Aft of the helm, covering the live well, is Jupiter's new mezzanine-style bench seat, complete with a backrest that flips down for access to a rigging station. Forward of the helm console is another bench seat. The options list also includes flip-down seats that are concealed in port and starboard coamings. If they look familiar, that's because they're offered on the Jupiter 38 Forward Seating (FS) model.

What makes this 38 different from the FS model is the cuddy cabin, which really doesn't seem like a cuddy because it's so roomy. Teak furnishings, stainless microwave and refrigerator, and a V-berth that converts to a dinette are some of the features you'll find here.

Even with the creature comforts, this 38 is still stuffed to the gills with fishing equipment. It's all here, from rodholders and rod racks to fish boxes, a saltwater washdown, and coaming bolsters. The new 38 Cuddy is definitely built for speed and comfort, but in the long run, this bluewater angling machine has a one-track mind.

For more information, visit Jupiter Marine.



Jeanne Craig has been covering powerboats since 1988. She spent ten years as a senior editor at Boating magazine and ten more as executive editor at Motor Boating. She's now an independent writer based in Rowayton, Connecticut, where she's close to the cruising grounds she most enjoys.