See more articles
Larson LX 710 I/O: a Well-Built Boat for a Nice Price
Larson's boat, engine, and trailer package takes perfect aim at the entry-level market.
For much of the late 1990s and the early part of this century, the biggest news from most boatbuilders was generated by their larger offerings. All the manufacturers—yes, all of them—were busy tooling up and debuting new models. Bigger was better, and it was more profitable for the builders. Who wouldn't go big?

We all know what happened in 2008, and the sales of larger boats foundered along with the economy. However, even now that things are on the mend, there's a refreshing trend in the runabout market: frugality is in, and builders have noticed. As a result, entry-level buyers are no longer relegated to the used-boat marketplace. They can get into something new that's not only affordable, but also built to last.





Take Larson's LX 710 I/O. In base trim, it can be had for $21,119 with an engine and a galvanized trailer with a swing-away tongue. Buyers also get a choice of three standard hull colors, blue, burgundy, and black.

"The LX 710 is really designed as a safe, deep family boat," said Jim Antolik, Larson's executive vice president of sales and marketing. "It's entry level for people just getting into boating. It fits in a garage. It's easy to tow and easy to launch. It's also for people who live on a smaller body of water."

For simplicity's sake, the 710 LX is available with only one engine, MerCruiser's 135-hp 3.0-liter four cylinder and an Alpha One drive. For buyers whose wallets are as green as their conscience, the 710 LX is available with a catalyst-equipped exhaust system for an additional $1,797.



That kind of power should be plenty to get the 710 LX up and over the 40-mph mark, which is about all you get from a tow boat roughly four times the price. It can do that on just 135 horsepower because it's light. At just 2,040 pounds, the 710 LX is feathery enough to be towed with even a small SUV, such as a Ford Escape.

One reason Larson can offer the boat at such a low price point is the VEC composite molding process. VEC is a computer-controlled closed-mold lamination process that results in a one-piece hull and stringer system. Because the resins are injected into a closed mold, hulls are stronger and lighter than those built with conventional open-mold, hand-laying processes. What's more, the weight variation per thousand hulls is less than 1 percent. There's a neat video about the VEC process on the Larson site.

The automated process greatly reduces the labor it takes to lay up a fiberglass hull and deck. VEC computerization also extends to the trimming and drilling of holes in the hull and deck assemblies. Most of the hand labor in a VEC boat happens in assembly and rigging. There's no wood in a VEC hull, and it comes with a transferrable limited lifetime warranty, which Antolik says has been shown to enhance resale value.

The cost savings VEC yields on labor allows Larson to use better materials than you might expect in an entry-level offering. The LX 710 has high-quality bucket seats, a handsome dashboard and steering wheel, and a full windshield with side glass.

"We put the same stuff in the LX that we put in our bigger boats," Antolik said. "They're not inexpensive low-quality parts."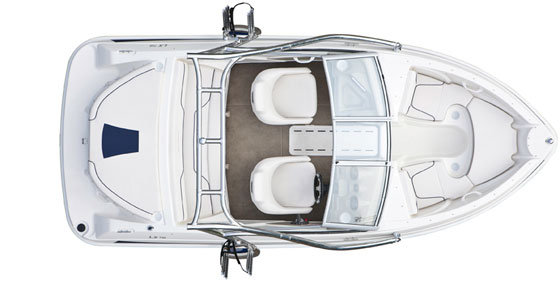 But enough of the build details. What does that 20 large get you? The 710 LX comes with a two-step boarding ladder and an integrated swim platform equipped with grab handles and a ski tow eye. Inside, the cockpit is covered with color-contrast marine-grade carpeting and an in-sole ski locker. Front buckets swivel and slide fore and aft. The rear bench flips up to reveal a positive molded self-draining stowage compartment.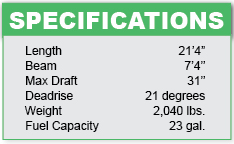 Although the boat is designed to come in at a price point, Larson offers a host of options for it. Even if you tick all the boxes, the boat is still reasonably priced at $28,917, and that's with the catalyst engine. If you plan to store it outside, the bow cover ($351) and cockpit cover ($718) are a good idea. If your kids like water sports, the folding wakeboard tower ($2,707) is a priority. Other options include a stainless steel package, tilt steering, and flip-up bolsters for the bucket seats. Check the right boxes and your friends will never know how little you paid.

"This is not a cut-down boat," Antolik said. "It's a very strong value. If you get into it and you like it, you've got it for a lifetime."

For more information, visit the Larson website.



Editor's Note:
Brett Becker
is a freelance writer based in Ventura, CA. He covers the marine, automotive and racing industries for various print and web titles.