See more articles
Laurel Point 36: Get Converted
Albemarle's offshoot is a labor of love.
Anglers care a whole lot more about catching fish than market trends. Unfortunately, when it comes to getting a new sportfishing boat, the two are very connected. Decades ago you could choose from dozens of 30-something convertible models, but as outboard power and the express design became more and more popular, relatively small convertibles disappeared from showrooms and marinas. Most of those that remained survived the changing market forces only because they were inexpensive, easy to produce, and, to be perfectly frank about it, cheaply made.





If you've been wishing for a high-end 30-something convertible that's built tough, you've probably had a hard time finding the right boat. Well, your wishing days are over, thanks to the introduction of the Laurel Point 36, by Albemarle Boats.

This boat is as fishy as it gets, which is no surprise since it's bred and built in eastern North Carolina. There's a 47-gallon livewell in the transom, built-in tackle drawers, fresh- and raw-water washdowns, and twin macerated 46-gallon fishboxes integrated into the deck. Coaming bolsters ring the cockpit, and rodholders and a locking rodbox come standard. But the best feature is the sheer size of the cockpit itself, which tapes out at 114 square feet. Check the specs on other fishboats, and you'll discover that few under 40 feet have a cockpit that breaks 100 square feet.



Another trait common to Carolina-bred boats: the Laurel Point is designed to take on the rough stuff. The 17-degree transom deadrise hull is built of solid glass, with a vinylester barrier coat. Hull sides and decking are cored with high-density foam, and the one-piece cabin inner liner is bonded directly to the hull. Fishing and boatbuilding heritage are melded in the cabin's sole, as well as in the boat's soul; pull up the carpet and you'll discover nonskid fiberglass flooring. Leave the shag there for dinner cruises, but before you head offshore for a messy day of slinging chum, pull it out and leave it in the dock-box.

All-nighter at the canyons in your plans? The dinette and saloon lounge both convert into double berths, and the master stateroom has an island berth, so there are sleeping accommodations for a half-dozen bleary-eyed anglers.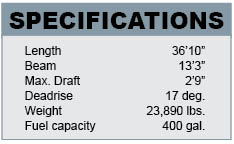 With a pair of 425-hp Cummins QSB diesels in the engine room and a full load onboard, the Laurel Point cruises in the upper 20s and tops out in the mid 30s. The surprise performance feature comes into play when you leave the channel and watch the depthfinder come up to four feet, and then three feet, and then below three—and you still don't run aground. Thanks to the prop pockets designed into the hull bottom, draft is a mere 2'9". Shallow Bahamian ports, back-bays, and canal condo slips that would be off-limits for most inboard boats are easily accessible on the Laurel Point 36. And to any angler worth his salt, this kind of data is a heck of a lot more important than any marketing data—trends be damned.

Comparison shoppers will want to see the Cabo 35 Flybridge, Luhrs 36 Convertible, and Henriques 35 Sportfish.

For more information, visit Laurel Point Boatworks.

—Lenny Rudow