See more articles
X-Yachts X-37: Little Sister with Attitude
X-37 Performance Cruiser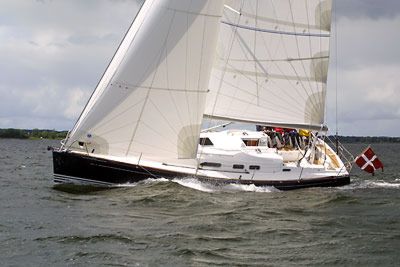 The X-37 joins her new family of X-Yachts' Performance Cruiser range. Many of the new design features already introduced into the X-40, X-43 and X-46 are also part of the X-37 specification, filling the gap between the X-362 and the X-40.

X-37 will be available in two interior classic layouts:

- 2 cabin version with 1 or 2 heads
- 3 cabin version with 1 head

Both hull and deck are built in sandwich construction to save weight and to achieve a very rigid construction that reduces condensation in both hot and cold climates.
The X-37 has been developed to a very high and modern standard, incorporating features such as complete deck inner liner and GRP head compartments including bilge in the floors.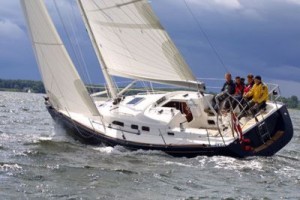 X-Yachts' history began with famous racing yachts in the late '70s, that their "cruising" lines are also very fast boats is evident by the entry of the X-37 into a number of IMS events this coming summer. A Spanish yacht charter company called Great Sailing (headed by an Olympic Gold Medallist in the Finn Class, Jose Maria van der Ploeg) has three new X-37 in their racing charter fleet with an eye towards the IMS Worlds and the IMS 670 Worlds.

Designer's Comments from Niels Jeppesen: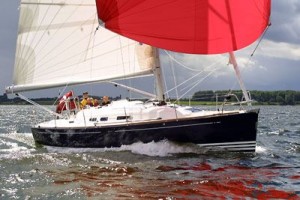 Launch
The first X-37 was launched on Friday June 18 2004, and the newly designed ?John Mast? was stepped the same day. Saturday was spent tuning the rig and calibrating the instruments, and on Sunday we set off for the first trial test.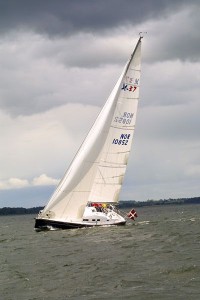 Test crew
The test crew consisted of Chief Engineers Niels Ditmar and Thomas Mielec, who had been deeply involved in the design and calculations of the new mast and rig in cooperation with John Mast's technical department. The X-Yachts Design Group has been entirely in charge of the yacht's engineering, deck layout and keel & rudder design.

On board was also X-Yachts' rigger Ralph Jensen, and Lars and Niels Jeppesen, who of course have been responsible for the entire project.

Motoring out of the Fiord
Motoring along the 7nm Haderslev Fiord, the first test was made for the new Yanmar type 3YM30FC, 29 HP 3 cyl engine, fitted with a 2-blade Flex-O-Fold folding propeller on an S-drive.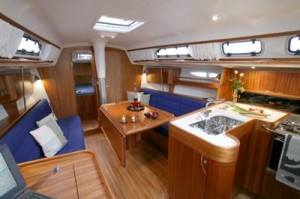 Just as for the newly developed X-43, X-46 and X-40, it was noticed that we have come a long way with noise and vibration reduction compared to the earlier X-Yachts' models.
Under motor, by 2500 RPM, we made approx 7.8 knots, which was 100% in line with the calculations, and naturally everything was comfortable, quiet and smooth.

In open waters
Finally, leaving the Haderslev Fiord, we hoisted the 43.7m2 North mainsail and unfurled the 34.3m2 high aspect furling jib.

Winds were from southwest - approx 15 knots of true wind, gusting up to 26 knots.

In the waters south of Arosund we confronted wave heights of 1 to 1 1/2?meters.

Going upwind, the balance was just as we like it. Very direct, 1.1 turning from side to side with a just enough pressure. The way she handled through the gusts and the short and steep waves was perfect. It was very noticeable that the new hull lines, which in comparison to the older X-Yachts models, have finer bow sections, and it was also evident that the slightly narrower hull shape with the Bmax slightly further aft, made the seaway smoother and more comfortable.

The stability was very secure, which made the yacht respond by accelerating in the gusts.

Boat speed varied between 6.8 and 7.2 knots, which is an absolute indication that the X-37 is a very fast yacht upwind.

Everything was controlled and examined. The new mast section worked to 100% satisfaction and proved to be very stiff in both directions, allowing for a very tight forestay tension, minimum of forestay sack and a minimum of mast pumping.

Downwind, the 106.8 m2 spinnaker was hoisted, and immediately the speedometer was reading between 8 and 10.6 knots (shy reaching). Rudder control was eminent (rudder blade is very deep using laminar sections).

After more than 4 hours of testing, we motored back through the Haderslev Fiord, making our checklists of the minor changes we will introduce and carry out before this very first model, for what may be the best ever 37 footer, is being handed over to the Norwegian client.

Specifications
| | | |
| --- | --- | --- |
| Hull length | 11.35 m | 37.2 ft |
| LWL | 9.79 m | 32.1 ft |
| Beam | 3.48 m | 11.4 ft |
| Standard draft | 1.98 m | 6.5 ft |
| Shallow draft | 1.70 m | 5.6 ft |
| Sport draft | 2.30 m | 7.5 ft |
| Ballast - std. keel | 2715 kg | 5985 lbs |
| Displacement - std. keel | 6400 kg | 14109 lbs |
| Engine diesel | 21.5 kW | 29 hp |
Standard Sail Areas
| | | |
| --- | --- | --- |
| Mainsail | 43.7 m2 | 470.3 ft2 |
| Genoa 1 135 % | 42.9 m2 | 461.8 ft2 |
| Genoa 3 108 % | 34.3 m2 | 369.4 ft2 |
| Self-tacking Jib | 27.2 m2 | 293.2 ft2 |
| Spinnaker - All purpuse | 106.8 m2 | 1149.4 ft2 |

X-Yachts A/S
Fjordagervej 21
DK-6100 Haderslev
Denmark
Tel. +45 74 52 10 22
Fax. +45 74 53 03 97
info@x-yachts.com
www.x-yachts.com