See more articles
Lowe 2012 Stinger 175: Video Boat Review
Our review of a fishing boat that will "get you into the game."

Read Lenny's Lowe Stinger 175 Boat Test Notes

VIDEO BOAT REVIEW TRANSCRIPT

Take a lesson from Trevor Bayne's win at the Daytona 500 last year. You don't have to have the fanciest most expensive equipment to win. When it comes to bass fishing, it's the same story. And this boat will get you into the game.

Performance
Plenty of punch in the mid-range. Now we've got the Optimax two stroke on this boat of course, which gives you a lot of that mid-range punch.

Interview with Clint Starnes, Lowe Boats

Clint: These units are primarily sold with 50, 60, and 70 HP engines.

So 75 is the maximum for this boat, is that correct?

Clint: That's correct.

Yeah I wonder how good is this all gonna take the waves?

Clint: Let's try it out.

Yeah, we got some waves right here. Let's hit 'em.

Now when I was running this boat yesterday, I came this close to hitting 40 mph. That is plenty of speed!

Clint: Absolutely. It won't win a drag race to your fishing hole, but it'll take care of the needs of most fishermen.

Very nice.

Construction
Now as I understand it, this boat has six longitudinals that are actually welded to every rib. Is that correct?

Clint: That's correct.

And that must give the boat a really solid structure.

Clint: Absolutely. It's one of our best performing hulls, very strong.

On an aluminum boat it must be tough to really get that strength and rigidity in the keel of the boat. How do you do that here?

Clint: We actually have a full-length center keel that is extruded that holds the two hull halves together. There's a weld that's placed on each side of it all the way from the transom to the bow of the boat that helps make sure the boat holds together.

Now let's take a look at some of these welds, because of course on an aluminum boat, what could be more important than a weld?

Clint: Sure.

We can see that they're feathered nicely, and there are no bubbles. It's really important to look for those bubbles and make sure they aren't there, right?

Clint: That's right. We use certified welders at the facility to make sure we get asthetically good TIG welds.

Features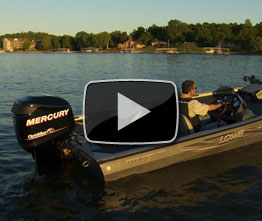 One of the nice things about the Stinger 175 is there's a lot of storage space. In fact, there's almost 12 cubic feet of storage in this boat. In the foredeck, we have a large box right here. There's a nice rod box that holds rods up to 7 feet. And there's a live well in the center as well.

There's also quite a bit of storage in the aft section of the boat, underneath the seats here. You have a live well with a liner for a bucket right here. Here's the main live well; unfortunately the top hits the seat so you can't leave it up. Then over here you have a built in tackle box. And there's a second built in tackle box on the other side. So you can put all your gear in a regular Plano box, drop it in, leave it on the boat.

When you want to run you've got seating for three. Flip this seat down, this seat back here, and it makes a nice step pad to get back into the cockpit.

Now if there's anywhere I see room for improvement in the Stinger 175, it's in the dash. It's a nice helm, it's sturdy it's well laid out, but there's no room for any additional electronics. If you want to add a more significant fishfinder or a GPS chartplotter, there's really just not room for it anywhere.

WrapUp
After reviewing the Stinger 175, I can tell you one thing. This might not be the most expensive fanciest boat around, but it is enough to make you a competitor.



Lenny Rudow has been a writer and editor in the marine field for over two decades and has authored five books. He runs his own web site at HookedOnFishingBoats.com and writes weekly for Boats.com reviewing new models and covering marine electronics.