See more articles
Lowe Sportsman 16 Boat Test Notes
Jeff Hemmel evaluated this sixteen footer for a Boats.com video boat review and provided a detailed list of notes.
Overview: The Lowe Sportsman 16 is a well thought-out boat for hunting and fishing.





View the Boats.com Lowe Sportsman 16 Video Boat Review

Test Conditions: Light chop, 1/2 tank fuel, two people aboard

CONCEPT
• Unique hunting and fishing hybrid
• Open hunting-style side console layout
• Spacious dual casting decks
• V-hull design

CONSTRUCTION
• .100" 5052 Aluminum
• All-welded construction
• Extruded extra-strength ribs
• Six formed-in strakes

PERFORMANCE
• 38 mph top speed w/Mercury 60HP outboard
• Fuel-efficient; only 5.5 gph at WOT
• Time to plane: 3.7 seconds

HANDLING
• Deadrise, strakes provide excellent tracking
• Can porpoise in rough water; able to settle with trim
• Minimal draft makes it easy to get into skinny waters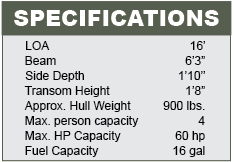 FEATURES
• 22-gallon aerated livewell
• Lockable rod/gun locker
• Receiver gunwale track for accessories
• Optional Gator Skin nonslip liner
• Optional hand-applied camo paint
• Trailer: Single-axle w/loading guides

For more information, visit the Lowe Sportsman 16 web page.



Jeff Hemmel was a senior editor at Watercraft World with work appearing in Consumer's Digest, Boating, Motor Boating, and more. Jeff has won 17 writing awards, is an inductee into the International Jet Sports Boating Association Hall of Fame, and won its 2008 Lifetime Achievement Award for Outstanding Journalistic Contributions. For more info, visit his website.