See more articles
Lowe Sportsman 16: Video Boat Review
Our reviewer of the Lowe Sportsman 16 calls it "well thought-out for hunting and fishing."

Read Jeff's Boat Test Notes

VIDEO BOAT REVIEW TRANSCRIPT

You may not have seen us right away, but you've already seen the picture of the Lowe Sportsman 16. With minimal draft, and a really innovative camo finish, this boat gets the true hunter and fisherman right up into the thick of the action.

Now Lowe refers to the Sportsman 16 as a hybrid.  I'd say it's a master of versatility.  For the hunter, it's got the camo deck as an option; it's got low glare hardware so you don't spook any animals. For the fisherman, you've got dual casting decks and a 22 gallon livewell. Basically you've got the best of both worlds, and you've got it in a fuel-efficient, easy to care for package.

CONSTRUCTION
(Tony Johns from Lowe Engineering)

Tony: Well the 16 Sportsman, and the 18 Sportsman, both are constructed out of 100,000ths aluminum, that's 50-52.  The customer's probably not just gonna be a fisherman, he might be a hunter as well. You know, with that said, you know you're going into some shallow coves and things like that, you may find some stumps and bolt this thing up against a tree with the tree lock that you can option on this, and you definitely want a thick material. They put it together in two pieces and you can see here on the front, we do put six stamped-in strakes on the bottom that adds rigidity to the bottom, and that also helps with performance and handling. I think Lowe does a good job cable routing, and putting cable covers in place where cable covers need to be in place.

TESTING THE RIDE
Yeah for a shallow deadrise, it stays put. That's what I was saying, those strakes I would say are definitely helping, cause if you were in just a flat bottom skiff or something you'd be skidding around these corners pretty good.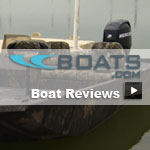 PERFORMANCE DATA
Now on the water I was surprised by the aggressiveness of the Sportsman's handling.  I chalk it up to the six formed-in strakes. They give it a lot of grip in the corners that you wouldn't normally expect. I was also impressed by the 38mph top speed. You might not use it during the day, but at the end of the day when you're running home, it's kinda nice to be cruising along at that speed, and still only burning a mere 5.5 gph.

FEATURES
I really like this innovative channel that runs around the entire perimeter of the boat. Lowe's provided a bunch of accessories that you can add on—anything from a tree lock to hold you in place while you're hunting, shell box, even a dog ladder to get your dog aboard when you're out fishing or hunting.

Another nice feature is this lockable rod and gun locker. Basically you've got plenty of room in here for four rods, as well as a good place to store your guns. Everything locks away nice and secure.

The seat flips down, as well as over, to expose more storage.

Behind the seat is a 22 gallon aerated live well.

And the entire boat is covered in gator skin from bow to stern. It's a truckbed-like liner that gives a lot of traction, and keeps a fisherman or a hunter secure in their boat.

WRAP UP
Trade offs? That same shallow hull that makes the Sportsman so great to get into narrow areas can deliver a rough ride when conditions get tough out on the water. Still, I was able to knock down a little of that bounce with the trim, and result in a pretty smooth ride.

Overall the Sportsman 16 is pretty much exactly what Lowe advertises. If you're a hunter, you'll love that wide open side console design. If you're a fisherman, dual casting decks, a 22 gallon aerated live well, pretty much is gonna give you everything you need out on the water. And both choices are going to appreciate that non-slip grip throughout the boat that makes it a really low maintenance, easy choice.

For more information, visit Lowe Boats.



Jeff Hemmel writes for Boating, PersonalWatercraft.com, and Powersports Business. The former Senior Editor at Watercraft World, Jeff is a multi-time award winner as well as a 2008 inductee into the IJSBA Hall of Fame. His first book, The Anti-Pirate Potato Cannon...and 101 Other Things For Young Mariners To Try, Do, & Build On the Water, recently received a bronze medal in the 2010 Moonbeam Children's Book Awards. For more info, visit Jeff Hemmel's website.