See more articles
Lowe Stryker: More Boat, Less Money
A complete boat, motor, and trailer package with a fishfinder and an electric trolling motor, for about $8,000.
View the Boats.com Lowe Stryker Video Boat Review

While most companies produce new boats that cost more and offer less, Lowe has come up with the Stryker:  a boat, motor, and trailer package that's ideal for freshwater multi-species angling and is larger than the competition, yet costs less. I got to know the Stryker intimately during two full days of testing—and then I went and checked out a direct competitor that costs almost exactly as much—and discovered that this package really does deliver more for your money.





The Stryker is a wood-free all-welded aluminum boat that's designed to go after everything from crappie to bass to walleye, whether you're headed for a river, lake, or reservoir. Yes, it can handle some waves (it was blowing a solid 15 knots one of the days we were testing), but don't forget that it's only 16 feet long and has a relatively flat bottom, with a seven-degree modified-V hull. While it handles the chop as well as most boats of this size and nature, it's not an open-water boat you'll want to take miles from shore in iffy weather.

The big surprise: you'll find that it's notably more stable than the competition, because the other boat-motor-trailer packages of the same LOA and cost have a bottom width of 48 inches and a beam of 70 inches, compared to the Stryker's bottom width of 55 inches and beam of 74 inches. This extra width not only provides a stability boost, it also makes for more fishing room. Fore and aft raised casting decks are wide enough that there are three separate seat pedestal bases on each. You can fish in comfort from the center, or the port or starboard sides. It also makes for more stowage space. There's a small draining anchor locker at the bow, a bulk stowage compartment in the foredeck that's large enough to hold a safety gear bag with four life jackets inside, and wet stowage under the aft deck.

The hatch on deck aft is very large, which makes it easy to access the wet stowage, but it hits the outboard's rigging, which you'll need to shove out of the way when opening and closing. The trade-off is a fair one; if the hatch were smaller it wouldn't hit the rigging, but it would be tougher to get things in and out of there.



The Lowe also has a pair of livewells, one forward of the console and the other in the aft casting deck. The closest direct competitor has a single livewell that's less than half the size (9 gallons versus 23). Don't like getting your hands wet when you reach for a fresh minnow? No problem; both wells have lift-out draining minnow buckets. And while you won't find a lockable rodbox, it does have a rack for four rigs on the port side inwale, with a pair of tubes running into the foredeck that'll protect those rod tips.

This is a multi-species boat, which essentially means the decking is a bit lower than on a bass boat (giving you a safer feeling when you're on open water). And although some dedicated bass lovers may want a flush deck, I like the deck exactly where it is. While sitting in the passenger's seat it's at the perfect level for wedging your feet against it, providing a secure feeling when you're running, as well as when you're fishing.

The second feature common to multi-species rigs is the dual-livewell setup; with one in the bow and one in the stern, you can always reach for bait or drop your catch into a well without leaving your seat, no matter what spot you're fishing from.

The Stryker package already includes a pair of must-have items you'd often have to pay extra for: a bow-mounted electric trolling motor and a fishfinder. The trolling motor is a 12-volt Motorguide freshwater with 40 pounds of thrust, complete with foot-pedal controls. Although this is a relatively small electric motor, it has plenty of juice for the rig. In fact, I had a ball maneuvering the boat around lily pads, across coves, and around the docks, as I cast for bass.




The fishfinder is a Lowrance X50DS, which puts out 188 watts of power, includes a temp probe, and displays on a four-inch black and white LCD screen. It's minimal (we're talking about a $150 unit), but it'll get the job done until you decide to upgrade.




Naturally, if you're chasing fish you don't want to be chasing other boats to the hotspot—you want to get there first. There are various Stryker packages available; the basic one comes with a 20-hp Mercury four-stroke, which will get you on plane but won't out-race most other rigs. Shell out a few more grand, however, and you can upgrade to the 50-hp powerplant we had on our test boat. It popped the Stryker out of the hole with head-snapping acceleration, and took us up to a thoroughly enjoyable top end of 36.9 mph. Cruising speed was 27.2 mph at 4500 rpm, which on most days is all the cruising speed you'll want in a 16-footer. Better yet, at that speed we burned a mere 3.2 gallons per hour. That means we were getting 8.5 miles to the gallon—better fuel economy than some tow vehicles.


Speaking of towing, another important part of the Stryker package is the trailer. The standard-issue painted aluminum bunk trailer is a breeze to load and unload (we dunked and dried the boat at least a half-dozen times and it always went smoothly) and it has some nice perks that aren't always included on stock trailers. For example, the winch is a swing-away instead of the cheaper fixed variety, and it has a swinging tongue. That means you can quickly and easily shrink the rig's LOA to park it in a relatively small garage.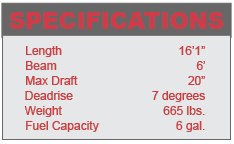 When you go to work, maybe you operate with a backhoe instead of a scalpel. But if you're steadily employed, the Stryker is almost certainly going to be affordable. In fact, with a list cost of about $8,000 (with the standard 20-hp Mercury four-stroke outboard) your monthly payments will probably be less than your electric bill. The Lowe Stryker proves you can, in fact, get more boat for less money.

Test Notes

Conditions: On Day 1 we had 15-knot winds and a 1.5-foot chop. It was sloppy out there. On Day 2, the sun shone and the winds quit. It was calm and beautiful; all I wanted to do with the Stryker was prowl the shoreline and cast my spinnerbait.

Handling: It's as sporty as you'd hope for in a boat of this nature, and the hull has four rounded strakes formed in to help grip the water. Still, don't forget to ease off on the throttle when you swing the wheel hard over; this little boat will spin around on a dime. On the breezy day we caught a bit of spray, but no more than you'd expect from a boat of this size. When the waves flattened out, the ride was dry and smooth except for a bit of porpoising, which was easily eliminated by trimming the motor down or shifting weight forward in the boat. Some manufacturers add a wedge or tab to the hull to reduce this phenomenon (which is common to boats of this size and design) but that also reduces the ability to get on plane with smaller powerplants. Pick your poison.



Performance

RPM MPH GPH
1000 3.6 0.3
1500 5.3 0.5
2000 6.5 0.8
2500 8.0 1.2
3000 15.5 1.5
3500 20.7 1.9
4000 25.2 2.4
4500 27.2 3.2
5000 30.8 4.1
5500 34.5 4.5
5700 36.9 4.6

To learn more, visit the Lowe Boats website.

Similar boats to consider: The closest competitor to the Stryker is the Tracker Pro Angler 16 . This boat has a 48-inch hull bottom width and a 70-inch beam, and has a single nine-gallon livewell. Like the Stryker, the Pro Angler 16 package includes a Lowrance X50DS fishfinder, but the standard electric trolling motor is a bit more powerful, at 46 pounds of thrust. When I inspected one in the showroom its construction looked comparable to the Stryker, except that the decking is marine ply (with a limited lifetime warranty) instead of aluminum.



Lenny Rudow has been a writer and editor in the marine field for over two decades and has authored five books. He runs his own web site at HookedOnFishingBoats.com and his syndicated blog appears at Boats.com in the BoaterMouth blog section.