See more articles
Luhrs 37 Open: IPS Pod Drives or Outboards?
Multiple power options lets the Luhrs 37 Open buyer prioritize speed or maneuverability, all while balancing up front and running costs.
The Luhrs 37 Open was introduced as the first boat in the Canyon series, to replace inboard powerplants with Volvo IPS pod drives. Luhrs claims a 20 to 30 percent increase in fuel economy with these pods, which is in line with most inboard-to-pod comparisons. But here's another surprise: Luhrs also offers the 37 Open with triple F-350 Yamaha four-stroke outboards bolted onto the stern.





Why go for outboards over pods? Their biggest advantage is speed. The Yamahas can propel this boat at speeds up to 45-mph, while the pod-equipped version tops out at around 37-mph. Outboards also have a slightly lower initial cost; you'll save around 10 grand. That's not a huge difference, considering that this boat's price is in the neighborhood of a half-mil. And that savings could get eaten up pretty quickly when you factor in the IPS drives' fuel savings. The IPS drives have one more advantage, too: maneuverability. You control the boat with a joystick, and since the pods can turn farther than the outboards, docking in a breeze is a piece of cake.

Fishing-wise, the boat remains essentially the same no matter what power package you prefer. It comes fully rigged to cruise for the canyons from the moment you sign on the dotted line, with a livewell, tackle station, and fishboxes included as standard features. Mega Bonus Perk: Luhrs also includes a tower with hard top as standard on this boat—most builders consider this an add-on, which can boost the boat's price by as much as 15 or 20 grand.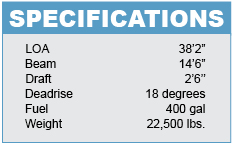 Belowdecks the 37 Open enjoys a lot more space in the pod or outboard configurations than it could with the old straight inboard design, thanks to the reduction or elimination of the engineroom. While most traditional expresses in this size range would feature a single stateroom and stand-up head, the 37 Open has two staterooms and two heads. Luhrs made good double-use of the forward stateroom berth, which can do double-duty as a settee; the queen berth folds up to form a seat and back, facing the flat-screen LCD TV.

So what'll it be, outboard or IPS? That's your call, but one thing is for sure: both options have some significant advantages over those loud, slow, smoky old diesels. And in either case, if a 37 foot express fishing boat that costs less than half a mil is in your future, the Luhrs is going to be on your short list. You can learn more by visiting Luhrs.



Lenny Rudow has been a writer and editor in the marine field for over two decades and has authored five books. He runs his own web site at HookedOnFishingBoats.com and his syndicated blog appears at Boats.com in the BoaterMouth blog section.