See more articles
Marquis 420 Sport Bridge: Looks to Thrill
Marquis Yachts injects a big dose of sex appeal into its newest cruiser, which adds a flybridge and lots of comfortable space to the Sport Coupe hull.
When Italian designers talk about boats, they speak of "emotion" and "passion," trying to put into words those inexpressible stirrings a craft evokes when it seems just right. The right boat, argue these masters of visual artistry, is more than a precisely engineered machine that's seaworthy and practical. It's infused with an aesthetic that's less rational, but equally critical to a yacht's appeal.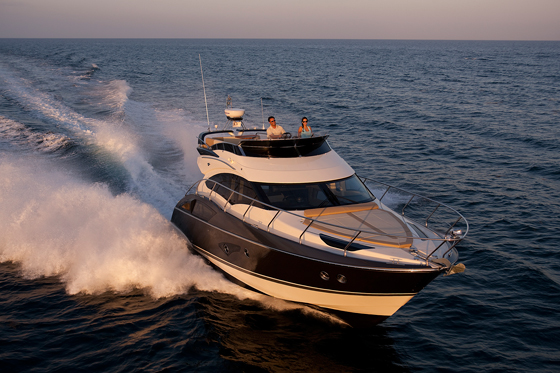 That philosophy is embraced by Marquis Yachts, a U.S. builder that tapped the red-hot design firm of Nuvolari-Lenard in Venice to help create its distinctive line of luxury boats. The company's newest model is the 420 Sport Bridge, and for fans of the brand, this cruiser won't disappoint.

The Wisconsin-based manufacturer and the Italian creative team have been collaborating for 10 years, with much success. The Marquis line ranges from 42 to 72 feet and boasts a global distribution. The builder even has a marketing hub in Monaco, the sandbox of the rich and famous where money and style are everything.





Like its siblings, the 420 SB is all sweeping curves and soft corners—as close to marine erotica as you might get in a flybridge cruiser that sleeps six and entertains three times that number. In the Marquis tradition, the new 420 marries sexy Italian styling with American engineering, and is thus poised to compete against some of the finest cruisers coming out of Europe—or anywhere else, for that matter.

Although the 420 SB looks the part of a sleek import, its beamy dimensions and robust interiors make for livable spaces, complete with great headroom (6'5") and an open floor plan. The 420 SB features the same single-level galley/saloon/cockpit layout we saw on the builder's 420 Sport Coupe, the award-winning model that debuted three years ago on the cutting edge of the sport coupe trend. Because the three areas connect seamlessly with no steps between them, traffic flow is smooth and entertaining is closer to effortless.

This main deck is the ultimate social space, and its party potential is enhanced by a big swim platform designed as an extension of the cockpit. This Marquis has its trick features, too, such as the movable seat and table at the transom. Just press a button and the arrangement moves forward or aft by 20 inches.



This Sport Bridge resembles the 420 Sport Coupe in a few other ways. It's based on the same hull, for instance, which was designed specifically for Volvo Penta's IPS pod-drive propulsion. When powered by IPS 600s, estimated top-end speed is 33 knots, with a cruising speed of 29 knots.

Both 420s also are built to a CE Class A certification, which means they're ocean-going vessels that can withstand Force 8 (40-knot) winds and 13-foot seas. "There aren't many 42-footers built to that certification, but we believe in manufacturing to a higher standard," said Erik Nelson, vice president of sales and marketing at Marquis.

Unlike the sport coupe version, this model has a big flybridge with an impressive helm station and plenty of seating. There are bucket seats and a wraparound lounge that converts to a sunpad electronically—a slick feature for those who have grown tired of flipping down backrests and rearranging cushions. As it turns out, the drawings for this sport bridge were completed at the same time the sport coupe was designed. The company held off on production, but says the time is now right to launch this model.

"Owners today want to be efficient in the way they use their boats," said Nelson. "Some conserve fuel, others are focused on green technology, and others are simply looking for more value. Buyers realize a flybridge model offers almost twice the usable space of a similar-sized express cruiser. Those who choose a Marquis do so because they don't want to give up aggressive lines when they trade up to a bridge boat."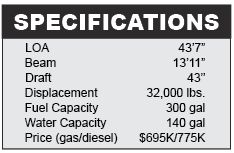 Marquis owners don't have to sacrifice a sleek interior, either. The cabin on the 420 SB is fresh and contemporary, from the straight lines and fine upholstery of the furnishings to the stunning color contrast provided by the Zebrano cabinets against the dark wood sole.

Prefer a more traditional decor? That's no problem, since Marquis is a semi-custom builder. Customers can choose from a broad selection of materials to personalize their yacht. In the long run, this flexibility enables the owner to experience that indescribable "emotion" and "passion" that is so critical to a yacht's appeal.

For more information, visit Marquis Yachts.




Jeanne Craig has been covering powerboats since 1988. She spent ten years as a senior editor at Boating magazine and ten more as executive editor at Motor Boating. She's now an independent writer based in Rowayton, Connecticut, where she's close to the cruising grounds she most enjoys.