See more articles
Marquis 630 Sport Yacht: Bold Style
This boat is designed to get you noticed.
Marquis Yachts, the U.S. builder that's collaborated with the award-winning Italian design firm of Nuvolari-Lenard, hits a wow-factor of 10 with the 630 Sport Yacht. This international teamwork has produced a globally appealing line ranging from 42 to 72 feet over the past decade, with a series of luxury boats that are perhaps most distinctive for their fashion-forward exterior lines and uber-chic interiors. This new 630 Sport Yacht offers more of the same, plus pod performance to match its runway-ready looks.





This is the first sport yacht from Marquis. Up until this time, the builder's portfolio has been comprised of sport bridges—like the Marquis 42 we reviewed—and sport coupes, so the 630 represents an evolution for the Wisconsin-based company. Like a true sport yacht, it's designed to appeal to owners who like to drive and are demanding about handling and maneuverability.

That's probably why the 630 is built around a pair of diesels coupled to joystick-controlled pod drives, which produce a 26 knot cruise and a top-end of 32.5 knots. The benefits of pod drives are apparent at speed, but perhaps more so in tight quarters, where the captain can never have too much maneuverability—particularly when he's trying to finesse the graceful landing of a 65'8" boat with all the windage of its tall superstructure. This is the third Marquis model with pod-drive propulsion, and it's proven popular with owners of other models.





To enhance the performance of the 630 Sport Yacht, Marquis offers the option of a carbon-fiber hardtop for the bridge rather than a standard fiberglass covering. The hardtop reduces the boat's overall weight and improve efficiency, and—in its cool black— also punctuates the striking style of the 630, which Marquis says is one of its most aggressive looking models to date. Its low-slung profile and complicated mix of straight and curved lines will look exotic in any port.

You can drive the 630 from the bridge or from the lower helm, where stitched leather at the helm seats and on the dash looks oh-so-Italian and promises comfort with Lamborghini-like flair. The three-spoke, race-type wheel has an automotive feel. The helm is on centerline, and set at the forward end of the salon. The dinette to starboard and the settees aft are all straight geometric lines, wrapped in stark white upholstery; the effect is minimalist modern and a great contrast against the dark wood sole and cabinetry.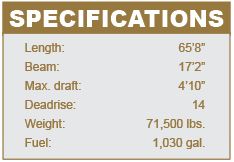 We've seen a select number of salons set up and styled in this way, but one thing that's distinctive here is the position of the galley. It's located just a few steps to port, so this galley is not really what you would call "down;" it's close enough to the saloon to keep your top chef involved in the social scene. And with the galley located here, the usable entertaining area in the salon is maximized. It also makes it possible for the builder to offer the 630 with a fourth stateroom for crew, located below the food-prep area.

Standard accommodations include three staterooms with a VIP cabin forward, another with bunks to starboard, and the full-beam master suite amidships. The owner's suite is huge, and that's partly due to those pod drives. This propulsion frees up more usable space amidships, since the engines are placed farther aft.

While the 630 is close to the cutting edge in its Italian style and international appeal, it's also manufactured to a CE Class A certification, which means it's an ocean-going yacht that can withstand 40 knot winds and 13' seas. "We build all of our yachts to meet or exceed this standard," says Scott Grall, marketing manager at Marquis. "We know our customers take great pride in owning a high-end premium yacht. They expect nothing less."

For more information, visit Marquis.

—Jeanne Craig