See more articles
MasterCraft 280V: Inboard Opulence
MasterCraft's new 28 footer lets owners step up in luxury and comfort without stepping out of inboard power.
Remember when the biggest boat inboard builders offered was around 22 or 23 feet? It wasn't that long ago, maybe 10 years or so, and at the time it seemed large. Times have changed. Just look at MasterCraft's 280V, a V-drive inboard that's every bit as much day cruiser as it is watersports machine.




The logic behind the 280V holds that as families grew, and as their needs changed, they outgrew the MasterCraft model line and had to go elsewhere to find a boat. The large runabouts from sterndrive builders were a natural progression in terms of quality and amenities, and it isn't difficult to imagine MasterCraft losing customers to the likes of Cobalt and Sea Ray. To help "plug the leak," so to speak, MasterCraft offers the 280V, which has something Cobalt and Sea Ray can't match in their runabouts: inboard power.

Inboards have a feel all their own. They pop right on plane, offer buttery smooth gear changes (as opposed to the "clunk" of a stern drive) and there's no trim settings to mess with. Just push the throttle and go. Inboards are also easier to maintain and help the boat retain its value a smidge better.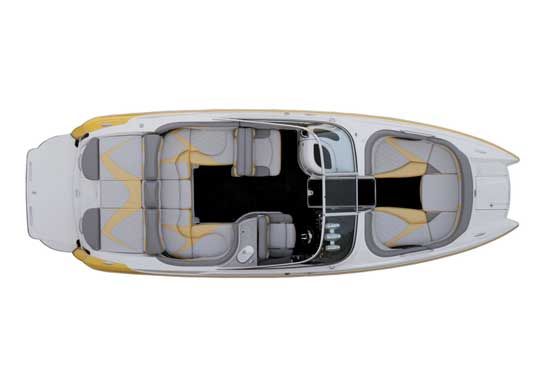 To compete in the large runabout market, MasterCraft knew it had to create something groundbreaking, and it did. For example, the 280V comes with twin engines. That's right, a pair of 310-horsepower Indmar small-block V8s lies under the hatch, and it's the only inboard in its size range to offer twin engines. If you want more power, you also can get a pair of 400-horse V8s. Of course, twin engines add a bit of heft to the 280V, and at 6,200 pounds, the boat requires something substantial for towing, but that weight also makes for a cushy ride on choppy lakes and helps it throw monster wakes.





Inside, the 280V comes with the amenities you expect from a fully featured runabout. For instance, the starboard side entertainment center comes with a sink and an icebox. It also can be fitted with an optional refrigerator. To port, the 280V features a fully enclosed head compartment, which comes standard with a sink with a faucet and sprayer and a porta-potty, or an optional vacuum flush system.
In the bow, which is incredibly spacious thanks to MasterCraft's "twin tip" design, passengers can relax on extra wide and deep lounges. A filler cushion is optional. Grab rails are handy within arm's reach—even for a child—and cupholders are tucked conveniently into the speaker enclosures in the gunwales. The bow also comes complete with an anchor locker that doubles as a compartment for a four-rung telescoping bow ladder.



The helm gets MasterCraft's "three bullet" gauge pack, one of the coolest instrument clusters in all of boating, which is complemented by the new "boat instrument gauge" a 6-inch display of key boat functions. The cowl area features a wind dam, and naturally, there is a generous ski locker molded into the center of the sole.

Stowage also is generous at 80 cubic feet. There are compartments beneath all seating in the rear lounges, which form a cozy conversation pit. The center cushions can be removed to reveal the walk-through to the swim platform, which is available with a rubber nonskid pad.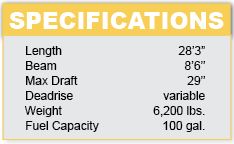 As your family grows and your needs change, you won't have to give up everything that's great about an inboard to get the benefits of a large family runabout. With MasterCraft's 280V, you get the best of both.

Base price is: $122,740, which does not include a trailer. For more information, visit the Mastercraft website.



Editor's Note:
Brett Becker
is a freelance writer based in Ventura, CA. He covers the marine, automotive and racing industries for various print and web titles.