See more articles
MasterCraft XStar: Triple Threat
MasterCraft blends technology, luxury, and performance in its new XStar.
When MasterCraft completely redesigns its XStar, it is news. Equate it to Ford redesigning its venerable Mustang. The flagship wakeboard boat for MasterCraft, the XStar is the boat customers want to see at dealerships and boat shows. It's a big deal, and the company is constantly raising the bar in terms of features, performance and utility.





WakeWorld.com has named the XStar the Rider's Choice Boat of the Year eight times. Would you want to be responsible for redesigning the model that doesn't win the award? Probably not, but from the looks of the new model, the design team's jobs are probably safe. It's stunning.

Debuted at the Surf Expo in Orlando last fall as a 2013 model, the new XStar features technology, luxury and performance to surpass its predecessors.



Remember, this is the same company that brings us hyper-luxury models like the 255V, and the monster twin-screw 280V. But the new XStar has no traditional analog gauges, no physical switches, and no knobs of any kind. Everything on the boat is controlled through its three dash-mounted touch screens. Users can switch to the system they want to control with the buttons on the sides of the display, then use the touch screen to fine tune them as they like. The result is perhaps the cleanest, most uncluttered helm on the tow boat market.

The new XStar also comes with the ZFT4 tower, a derivation of the ZF5TP tower introduced last year. It's essentially the same design, but operates by hand. When in the down position, the tower doesn't prevent you from opening the hatches to either side of the engine. It's a nice forethought that means no more having to pull the boat out of the garage and raise the tower just to get something out of the hatches.

In terms of luxury, the new XStar has enough for two boats. Relying on the spaciousness afforded by the pickle-fork design, MasterCraft created a bow area with three aft-facing seats all the way forward. The bow also can be fitted with a filler cushion and a forward-facing backrest to form a playpen.

Seating in the cockpit is no less innovative. For example, the rear outer bench lounges feature headrests reminiscent of the Lister Jaguar. They're hinged at the gunwales, which also feature nonskid decking for boarding passengers. They are undeniably cool, but probably not high enough to provide support for adults. Kids will love them, though.

Perhaps the most innovative seat is the rear bench, which lifts up and forward to create a rear-facing bench seat. It's wide enough for three children or two adults, but the simplicity of its operation and its sturdiness make it a feature people will love using. It also exposes a nonskid step up to the walk-through over the engine compartment to the swim platform.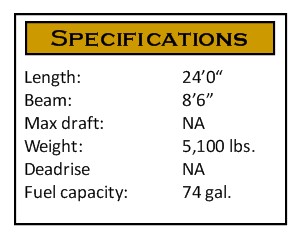 The platform itself is pretty cool, too. For example, it has a nonskid mat on the bench and the platform surface, but where the platform really shows some innovation is in the shape of its rear lip. Stay with me here: think about how most wakeboarders get in the water. They strap in and slide off the platform. Until now, platforms have had 90-degree angles at the trailing edge, which can catch on fins and don't really lend themselves to sliding off of. MasterCraft curved the rear lip of the platform, so now the way it's manufactured truly aligns with how the product gets used.

With regard to performance, the new XStar gets Ilmor Marine's new 7.4-liter MV8 engine. Based on General Motors LS engine architecture, the MV8 is fitted with variable valve timing and forged crankshaft, pistons and H beam connecting rods. The naturally-aspirated iron-block, aluminum head motor produces 522 horsepower and 524 pound-feet of torque. Wow.

It isn't difficult to imagine this boat winning a handful of awards. The new XStar is fitted with the technology, luxury and performance worthy of its name—and of being MasterCraft's flagship wakeboard boat.

For more information, visit www.mastercraft.com.

—Brett Becker