See more articles
Mercury Racing Verado 400R: Test Run
Hold on, and hold on tight - our Outboard Expert will take you for an 80 MPH test ride, with the new Mercury Verado 400R.
Want to go fast? Really, really fast? Then hold on tight and jump aboard a Nor-Tech speed boat, while our Outboard Expert Charles Plueddeman revvs up a brace of quadruple Mercruy Racing Verado 400R outboards.


Yeah, that was fast—really, really fast. If you didn't feel outboards were potent enough when Mercury introduced the 300 and 350 HP Verados, you no longer have to suffer.

Just how does Mercury get so much power out of an outboard? Plueddeman gave some explanation in the video, but naturally, there's more to it than he could detail in just a minute or two. Fortunately, he explains all in Mercury Marine Reveals Verado 350, Mercury Racing 400R at Miami Boat Show.  Be sure to read this article to get the full scoop.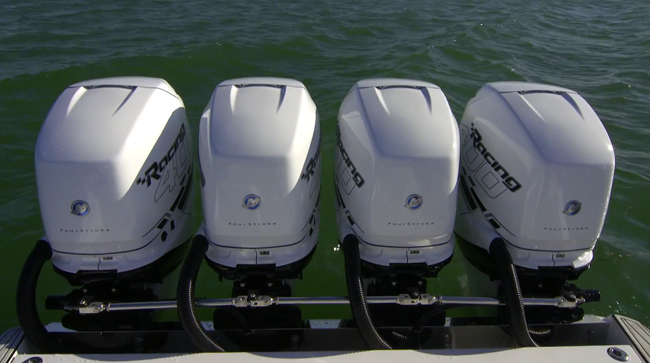 For more about what's new in the outboard world, read 2015 Outboard Update: What's New and Hot

And if you want to learn more about those honkin' big Mercs, click on over to Mercury Racing.