See more articles
Mercury Verado 350 Video: First Look at a New Outboard
The 2015 Mercury Verado 350 is the most powerful supercharged outboard available from Mercury Marine today.
Mercury unveiled its new Verado 350 at the Miami boat show, and our Outboard Expert, Charles Plueddeman, was on hand to get one of the very first test drives. Rigged in triple glory on the transom of a Boston Whaler 370 Outrage, he ripped across Biscayne Bay at speeds of over 55 MPH. Come along for the ride—how could you possibly resist?


Even though this video is just a quick First Look, Plueddeman did spend a lot of time examining and running the 350 on several different boats. For a much more detailed technical look at these outboard engines, read Mercury Marine Reveals Verado 350, Mercury Racing Verado 400R at Miami Boat Show.

Yes, you saw that right, there's a 400 HP beast out there, too. So, why did we call the Verado 350 the most powerful outboard from Mercury Marine? Because the 400R flies the Mercury Racing banner. If the past is any indication, this means that the 400R will be a Mercury Marine model some time down the road; they rolled out a 350 Verado Racing version just over a year ago, and once it had some time in the field, tweaked it in the ways Plueddeman describes in the video, and turned it into a Mercury Marine product.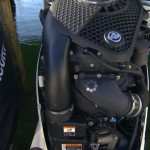 Naturally, our Outboard Expert wasn't about to leave town without getting a ride with the 400R, too. And there was a quad-engine Nor-Tech 390 Sport Center Console sitting at the dock, waiting for him. Top speed broke 80 MPH on this rowdy rig, and you can get a glimpse of this one in action by checking out the Mercury Racing Verado 400R Test Run.

Of course, for further information on the 350 you can head over to the Mercury Marine web site, and to see more of the 400R, check out Mercury Racing. To learn more about some of the other new outboards introduced this year—Mercury wasn't the only manufacturer to make news and there were also new entries from Evinrude, Suzuki, Yamaha, and Seven Marine—read 2015 Outboard Update: What's New and Hot.