See more articles
Mobius LSV: Fun for Beginners and Seasoned Riders
Moomba's towboat can help you learn to ride and then help you become a better rider.
It's an age-old problem with any hobby. The equipment you learn on tends to become obsolete once you get good. That tennis racket that got you started? Too big and heavy now that you have perfected your backhand. Those golf clubs? Not enough shaft flex since you got rid of your slice. That Honda CRX you learned to race? Not fast enough anymore.





It happens all the time. Entire industries are built on the progression of a player's skill-level, which is what makes Moomba's Mobius LSV so refreshing. With nice clean wakes, it's the kind of boat that makes learning to ride a wakeboard easy and fun. OK, wakeboarding is fun on its own, but the Mobius LSV makes it less intimidating for beginners. At the same time, the boat also can hold its own with more seasoned riders.

With its rear-engine V-drive, the Mobius LSV can throw wakes suitable for utter newbies. A standard Rad-a-Cage tower ensures they get a good pull, too.  Once beginners advance a bit, they can fill the single-bag standard Performance Gravity I ballast system for even taller wakes. If a rider has plans to go big from the start, he or she can choose the Performance Gravity III-v ballast system, which includes two bags at the rear and one in the front, and the optional Multisport Wake Plate, which lets riders tune the wakes to their individual tastes.

As with all Moomba tow boats, one of the best aspects of the Mobius LSV is the price: $39,995, which includes a single-axle trailer. In the tow-boat world, that's a steal.



For your money, you get the boat and trailer with LED lighting and a Swingaway tongue. You also get a 325-hp fuel-injected Indmar small-block engine, Rad-A-Cage towing tower and the Performance Gravity I ballast system. If you add the wake plate, the three-bag ballast system, wakeboard racks and the Perfect Pass speed-control system, you're looking at $42,480, which is still a bargain for a boat you won't outgrow when your skills improve.

Moomba also has struck a deal with ZDecals, which makes graphics wraps for the hull. Together, the companies offer more designs that you would imagine—about 15 Web pages worth of graphics packages—and the range is as broad as that of the Mobius LSV: from clean and conservative to 90-mph-with-your-hair-on-fire, and everything in between.



Even in standard trim, the boat is a solid offering and easy to own and use. It weighs just 3,300 pounds so you don't need a giant pickup to pull it. A midsize SUV will do. It measures 21 feet, 6 inches long and 97 inches abeam. The V-drive configuration makes for an uncluttered cockpit, with lots of floor space and a J-shape seating area. With its open bow, the Mobius LSV is rated to handle up to 13 people.

Thanks to the removable swim platform and the Swingaway tongue, it should fit in most garages, so you won't need to pay storage fees. It holds 40 gallons of fuel, so it's not prohibitively expensive to fill up, and the base engine strikes a decent balance between efficiency and power. However, you can get more oomph if you want it. Engine options include a 340-horsepower 5.7 liter and a 409-horse 6.0 liter.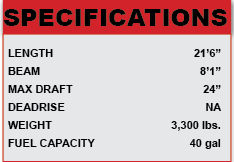 In many ways, the Mobius LSV is an eponymous boat. It allows you and your family to go from beginner skill levels to advanced riding. And when you invite along friends who are just learning, the continuous loop begins again. It's a boat that accommodates riders of all skill levels at a price that is tough to beat.

Editor's Note: Brett Becker is a freelance writer based in Ventura, CA. He covers the marine, automotive and racing industries for various print and Web titles.For more information, call 865-856-3035, or visit the Moomba website.