See more articles
Monte Carlo MC 6 Video: First Look
Reviewer Alex Smith takes a look at the new for 2015 Monte Carlo MC 6.
What's a little trip to Dusseldorf, Germany, when there are new motor yachts to be seen? Well, okay, maybe the trip was only "little" because we sent our intrepid UK boat reviewer Alex Smith across the channel, rather than making the big trip across the pond. But Alex knows his boats, and in this short First Look Video, he gives some great insight into what the Monte Carlo line is all about—as well as some views of the inside and outside of this new model.


Yes, there's a lot more to learn about this yacht than we can cover in a minute-long video. But don't worry, there's a full review of the MC 6 on the way. In the meantime, if you want to see more of the Monte Carlo range, reviewer Zuzana Prochazka gives us an in-depth look at one of their smaller models in Monte Carlo MC4: Plush Perfromance. To see this model on film, check out  Monte Carlo 4: Quick Video Tour.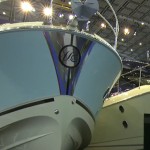 Alex caught up with the middle sibling last year, and shot Video First Look: Monte Carlo MC 5. We also took a Sneak Peek at the Monte Carlo 86. Heck, we've even taken a look at the tenders designed and built specifically for the Monte Carlo range, in Williams Inflatable Video: Beneteau Monte Carlo MC 5 Tender.

The MC 6 may have been introduced at Dusseldorf, but it's on its way here and will be available in the US of A very soon. Meanwhile, you can get more information by visiting Monte Carlo Yachts. Or, stay right here on boats.com and look at some Monte Carlo Yachts listings.