See more articles
Monterey M5: A Complete Package
More than a mere runabout, the M5 offers lots of amenities - all in a good looking package.
One unfortunate circumstance of building a boat with tons of features and amenities is that function can override form—and you end up with a boat that does a lot but looks a little, well, homely.





The first thing you notice about the Monterey M5 is that it is visually striking, and in a positive sense. In fact, it's downright handsome. Only when you begin to look at it a bit more closely do you discover just how much function lurks beneath the fine form.



Take something as simple as the swim platform, for example, which is integral to the hull and deck. Not only does it have a transom walk-through with a door and handy grab rails, but it also has what could be characterized as a rear-facing "rumble seat." Although it would be ill advised to sit in this seat while the boat is moving, it's a great place to gear up for a ski run or sit and relax while the kids swim off the stern.

What makes the aft bench even more versatile is that it converts to a flat sun pad. The platform also has a telescoping swim ladder concealed in its own latched compartment. Access to the ladder is from the starboard side, away from the sharp edges of the propeller. A simple, safe and smart idea.



Up front in the open bow, form and function continue with two forward-facing lounges that have gently angled backrests and fold-down armrests for greater comfort. Grab rails are optional. The lounges also have filler cushions that can be removed to accommodate more bow passengers. Monterey also fitted another telescoping ladder at the bow, a great feature for disembarking while beached.

The bow area and swim platform are certainly crafty enough, but the number of amenities Monterey designers were able to cram into the cockpit borders on brilliant. For instance, the portside cowl conceals a lighted, enclosed head with a self-draining fiberglass liner. It also comes with a rod for hanging wet clothing and a Porta Potti. A pump-out head is optional.



The cowl also has a wind dam beneath the windshield, making it possible to close off the cockpit from the onrushing wind. The self-draining deck offers stowage beneath the sole and a nonskid finish. Snap-in carpeting is optional, as is a removable dinette table. The table is unique in that it plugs into the base of the rear bench seat, not into the floor, which means no more stubbed toes with or without the table in place. Cool and smart.

Driver and passenger seats swivel to form a "conversation pit" and there also is another rear facing seat to starboard behind the driver. It has a slide-out removable Igloo cooler underneath it, cupholders and a grab handle. To port, the L-shape lounge gets a fold-down armrest with two cupholders and another removable cooler.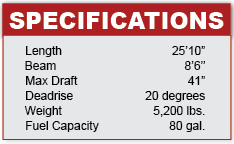 For power, the base engine is a 300-horsepower MerCruiser 350 Mag MPI with a Bravo One drive, a great package, but because the M5 weighs 5,200 pounds, it might be worth the extra $1,228 to get the twin-propeller Bravo Three drive. Twin props makes the boat more maneuverable, improve time to plane and are better suited to producing wakeboarding speeds of 18 to 22 mph. Power options extend all the way up to MerCruiser's 430-hp 8.1-liter V-8, which is available with a Bravo One or Bravo Three drive, but as with all engine options on boats, prices tend to jump geometrically.

Base price for the Monterey M5 is $79,179, which includes form and function in equal measure. And it's anything but homely.



Editor's Note:
Brett Becker
is a freelance writer based in Ventura, CA. He covers the marine, automotive and racing industries for various print and web titles.