See more articles
Moody 44: Bluewater Passagemaker
Moody 44 made 1,500 seamiles from Newport to BVI: a pure passagemaker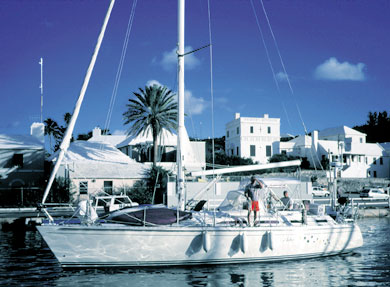 After more than 1,500 miles in a variety of wind and sea conditions, we learned her strong points and areas crying out for modification. But most of all we learned she is a passagemaker.

Moody cruising boats have the reputation of being the Pearsons of English Channel and North Sea ports. Certainly, the ubiquitous Moodys and Pearsons (Pearson Yachts closed shop about a decade ago) have much in common. Boats from both yards occupy most every anchorage, estuary and eel rut along their respective coastal cruising grounds: the periphery of the British Isles and the Eastern Seaboard of the U.S. Boats from both yards are extremely well built, and complete ready-to-cruise packages have been moderately priced. And both Moodys and Pearsons can make tracks in a wide variety of weather conditions in quiet, businesslike fashion a vital trait for any boat with voyaging intentions.

Last October, a 1,500-mile cruise aboard the Moody 44 Astral from Newport, Rhode Island to the British Virgin Islands by way of Bermuda spoke eloquently of this model's penchant for passagemaking. The first leg the 635-mile rhumb-line distance to Bermuda was dispatched, with help from 20 to 30 knots of wind on the quarter, in four days, six hours. The second leg, some 850 miles, was characterized by headwinds for two days and no wind thereafter, consumed a staggering nine days, instead of the usual five, but most significantly Astral kept moving in zephyrs and squalls and ghosted triumphantly into port under sail. This was Astral's second trip to the islands, the first being earmarked by gales (she hove-to for 12 hours north of Bermuda) and solid trade winds, and this time, too, she made landfall with aplomb and with a well-rested crew.

Yes, the stock Moody 44, like Moodys built before and after, can be termed a passagemaker. Astral seemed to be drawn inextricably toward her destination whatever the wind direction or velocity. This surprised us, but we learned that her steady, dependable performance is no accident. On the other hand, we feel that certain areas of the boat could be modified to make her, for Blue Water Sailing's purposes, a more complete passagemaker. We say for our purposes, because in many cases Astral's owner has chosen to set up his vessel in ways that satisfy his particular needs and those of his young family, a point that never should be lost as oceangoing sailing vessels are critiqued.

Deck and Cockpit



Decks:

The molded nonskid is super, albeit tough on the knees and elbows. But we'll take it. Footing was so secure that one tended to check more frequently for chafe, tangles, hangups, faulty sheet-lead angles, and potential malfunctions on the deck. Foredeck visits were a breeze with bare feet or deck shoes. Trips forward were made all the more pleasant by the Lewmar hatches being recessed, thus flush with the deck, eliminating a number of toe-grabbers.

Further cleaning up the decks, halyards, outhaul and reefing lines are led from the mast to the cockpit through cavities below the deck, eliminating the treacherous obstacle course of lines and turning blocks frequently set up between cockpit and mast. Around the mast step, these cavities hold winch handles and tools in a seaway. Forward of the mast is a recessed area with male snap fittings to receive a cushioned "sunbed."

Port and starboard stainless-steel rails run all the way from the primary winches to the forward end of the coachroof, and the length of the aft-cabin top, providing secure handholds and strongpoints for gear lashings. If the rails had not been brought so far aft, their would have been "blind" spots where the awning was mounted.

The double lifelines are the proper height and construction, but Astral's uncovered wire is a mixed blessing. Certainly, with the lifelines exposed, one can easily monitor deterioration of swages and wire, but are the tradeoffs worth this? Lifelines that are sharp against legs and backs, and should meathooks develop, blood will flow. We note in the Moody Dealer handbook that "plastic-coated guardwires (white)" are optional.

The decks are spacious, always an asset on an ocean-cruising boat. On our trip to the Caribbean, we carried two kayaks and a rigid inflatable forward of the mast, and still had room to safely reach the staysail and stemhead. Triangular chain locker forward also houses the windlass, and a salt water shower hose that we used for daily ablutions, rinsing off aft with a freshwater hose in the port lazarette.

The aft deck and aft-cabin top serve as the back porch and mudroom, especially during quiet times at sea, when West Marine folding deck chairs are positioned snugly port and starboard, facing inboard on the fantail over a pair of deep lazarettes. The gas-bottle locker was spec'd out for butane gaz and doe not accommodate U.S. aluminum bottles, which are either too fat or too tall. So a pair of 10-pound steel bottles has to be used, which must be replaced every two years or so.

On the aft-cabin top, on either side of the hatch, are mounted an Igloo cooler to port and a Switlik six-person life raft to starboard. The sugar-scoop transom extends the deck area, providing a good place to clean fish without making a mess, and offering the ideal swimming and diving platform.

Consistent with the clean-decks philosophy, the radar mast is mounted out of the way on the middle step of the transom to starboard. Conveniently, the Ampair 100 wind generator is mounted above the radome, the added weight of which necessitated stainless-steel braces. Serendipitously, these braces, along with the split backstay provide more tie-down spots for jerry jugs, buckets, mops, gaffs, and tackle boxes.



Cockpit:

The cockpit is large, high off the water and dry, with lots of protected storage space port and starboard of the companionway for binoculars, spotlight, harnesses, manuals and guides, and the like. This area is so dry, the owner has mounted a non-marinized Magellan Nav-6500 in a custom-made mahogany box to port.

The cockpit could be made even more comfortable with higher seat backs, which extended only 10 inches above the cushions. Access to reefing lines and halyards from the cockpit is simple and immediate. Astral's cockpit was covered by a long awning that literally saved our skins when the wind died south of Bermuda.

Accommodation



Galley:

As you descend the companionway into the main cabin, the L-shaped galley is to starboard and aft. A large bar/shelf area is under the companionway. The double sinks (great for washing and rinsing) form the bottom of the L, and the reefer, counter and range constitute the L's extender. Being aft of the companionway means you have amidships cabinetry to lean against in a seaway. Both freshwater and saltwater faucets are plumbed, the latter of which is a tremendous asset on long passages with dwindling freshwater supplies.

Having labored in this galley for about three weeks, at sea and ashore, we can say that it is seamanlike: ergonomic, spacious yet snug, adequate fiddled counter space, and lots of stowage for pots and pans, cooking tools, utensils and provisions. Our major complaint, easily remedied, is that there is no opening port to ventilate the area while cooking. A minor annoyance is the counter top, most of which is reefer lid, so the counter has to be cleared before fridge or freezer can be opened. All cabinet doors have push-button, positive-locking hasps, none of which opened inadvertently during nearly two weeks at sea. Cupboards above the counter have sliding doors.



Nav-station:

To port of the companionway is the forward-facing nav-station, which is as functional as the galley. The fiddled chart table is large enough to contain DMA 108 Southeast Coast of North America including the Bahamas and Greater Antilles folded once, and much stowage exists under its hinged lid and in drawers and bookshelves. The seat, with its waterproof cushion, is snug and secure. Moody's custom breaker board dominates the outboard side. Aft of it is VHF, stereo, Raytheon GPS, and Heart Interface inverter monitor. Forward of the breaker board is the DC voltmeter and a Si-Tex NavAid 9000 plotter that interfaces with the GPS and Furuno Model 1731 radar. The SSB is mounted under the companionway within easy reach of the chart table seat.



Main cabin:

The dinette to port has voluminous stowage outboard, and also under the dinette cushions. The dinette provides an impromptu seaberth when on the starboard tack; it's narrow, but you can wedge yourself between the table and the cushions. The table top is hinged and folds on top of itself for size reduction while under way and for access to a bottle locker beneath it.

Opposite the dinette are bucket "loveseats" that we would convert to a straight settee that would be the main-cabin seaberth on the other tack. However, the owner likes his bucket seats because they are kid-sized and his children occupy themselves for hours at a time with games, puzzles and coloring books while safely seated in them. Deep, dry bins are under their seat cushions.



Berths and heads:

Seaberths were an issue, especially once we sailed south of 30(. The berthing arrangement is North Sea all the way, with two small upper and lower compartments one forward (of the mast, unfortunately) to starboard and the other called by Moody the "port passage cabin" aft of the nav-station to port. On paper, these appear to be excellent seaberths, contained and secure; however, the forward compartment is too far forward and the motion is lively and amplified by its enclosure, and the aft compartment is opposite the engine room, thus subject to noise, heat and fumes.

While under sail only, the port passage cabin is a delight with an easy motion and plenty of ventilation. Fans are installed in each, which help a lot, and a pair of small overhead hatches let some air in (the aft upper and lower also has an opening port), but the fact remains that south of 30 (N two of our crew of three slept in the cockpit and the third slept in the aft cabin with its large hatch drawing air into it.

One night on the way to Bermuda, the motion in the forward compartment was so bad that we removed one of the berth cushions and placed it aft of the mast on the main cabin sole against the bucket seats. We were on the port tack and we slept like a baby. We love the Moody as a family passagemaker, and would, for our purposes, convert the forward upper and lower to a large stowage compartment with full-length hanging locker and drawers.

However, the upper and lowers are great for kids in port, so for Astral's owner, the layout is just fine the way it is. Moody terms the forward compartment the "starboard guest cabin," suggesting that isn't intended for sea use anyway. This compartment has its own hanging locker, shelf space and mirror, and stowage under the lower berth.

Opposite this compartment is the forward head, with shower with opening deck hatch, which was not used during our passage. Then forward of the head and the compartment is the forecabin with V-berth, which is used for stowage while under way. Stowage volume is huge here, with spacious bins beneath the berth cushions and many under-deck lockers. Beware: Tape the hawse-hole on the windlass to keep the contents of the forward cabin dry. In port, a large deck hatch creates bright and airy guest quarters. The other head, aft of the galley with access to the aft cabin, is appropriately bright and well ventilated by an opening deck hatch. Each head has its own holding tank.



Engine room:

Between this head and the port passage cabin is the sound-insulated engine "room" with automatic fire extinguisher. Access to the engine (a Perkins 50-horse, 4-cyl. diesel) is by way of doors cut in the inboard bulkheads of the passage cabin passageway and the head. While replacing an alternator, thankfully on a flat sea, it occurred to us that these doors could be enlarged to enhance access and increase range of motion while effecting repairs. In fact, the linen closet, which was not used for sheets and towels on Astral, could easily be eliminated to allow a larger engine-access panel.



Aft cabin:

The aft cabin was the best ride in the house, and judicious placement of duffle and sail bags and pillows enabled us to spend some great off-watches in its double berth in moderate seas. Comfort, ventilation (with opening ports in both hull and cabin sides), light and motion are all spot-on. Lee cloths or "bundling boards" could easily be installed to make this a super at-sea stateroom. As it is, it's a terrific in-port couple's cabin, with hanging locker, drawers, fiddled shelves, desk/dresser with mirror, and settees with drawers under.

Rig

The stock Moody 44 is sloop-rigged, but because Astral's owner knew he would be passagemaking, he had an inner forestay installed to carry a storm staysail in heavy weather. A structural bulkhead exists at the after end of the chain locker, and this serves as the deck strongpoint. The staysail is currently hank-on, but the owner plans to convert it to roller-reefing. Silver-anodized aluminum spars are made by Kemp in England, headsail reefing by Furlex, and in-mast furling systems by Selden. Spreaders are swept-back, and double cap-shrouds and intermediates are all constructed of robust stainless-steel wire. A rod vang supports and controls the boom.

Design/Performance

Design: Bill Dixon has refined his ability to fit large amounts of living space in small boats without seriously impairing their sailing performance. With the 44, as well as other Moodys of his design, he has incorporated high topsides, full forward sections and long waterline to create a true "quart in a pint pot" capable of flushing a lot of sea miles under her keel. The 44's Displacement/Length ratio (D/L) of 220 is that of a hull that can carry a voyaging cargo with minimal resistance. The hullform is pretty much canoe, with round bilges, full sections forward, and modified fin keel skeg-hung rudder.

Bill Dixon's semi-balanced rudders are known for their acumen at allowing boats to behave well directionally. Additionally, the Whitlock Constellation conduit steering system was, simply stated, superb. On and off the wind, Astral felt as though she were on the proverbial rail. When the autopilot is activated, you simply do not hear the course-correcting screeches and whines that earmark many installations. Aboard Astral, the Autohelm 6000 did not have to labor; on the wind, it was off the clock.

We departed Newport, bound for Bermuda, with 30 knots on the quarter. With the staysail up and a good tuck in the main, Astral was very stiff and boiled along at a steady 10 to 12 knots. When the wind dropped into the teens, we dropped the staysail and rolled out the 110 genoa and the full main, and Astral maintained eight to nine knots right through the Gulf Stream until the wind died completely. We motored into St. George's on a glassy sea.

Four days later, we heading for Tortola, B.V.I., and moderate head winds and very light air did not stop the 44. She'd tack through 100( in a moderate breeze and respond to zephyrs that cracked the ocean's mirrored surface. We did not encounter gale conditions on this passage, but the previous trip had a gale, during which Astral hove-to for half a day while the crew rested, cooked up a storm, and read. The 44 will not be deterred from her mission of getting there, no matter what. She's a passagemaker. Her Sail Area/Displacement SA/D Ratio of 19.7 eloquently supports this premise, reflecting a design that will keep moving in light to moderate wind.

A reconfiguration of the cockpit winches could make her an even better one, especially when sailed shorthanded. We'd replace the Lewmar 8C reefing winch with a self-tailing 30CST. The No. 8 is too small for the loads imposed by the genoa, and self-tailing is too good to pass up in this application. We'd mount a pair of Lewmar 40CSTs aft of the 52s (54s?), primarily for the staysail, but also for the myriad other uses cockpit winches have on a voyaging boat. You never seem to have enough of them.

Conclusion

The Moody 44 is an excellent family passagemaker, capable of being sailed safely and efficiently from summer to winter cruising grounds with all the accouterments of a floating home. With not too great an expenditure, it could be converted to a pure passagemaker, but crossing oceans was not the intent of Astral's owner. The 44 is built of hand-laid fiberglass to the toughest international boat-building standards BS 5750 and ISO 9002. Isophthalic gelcoat and resins are used to combat osmosis below the waterline. Top-hat structural members are glassed into the midships sections of the hull, and tray moldings are bonded into bow and stern sections. Her solid decks and coachroof are balsa-cored for light weight and great strength. All components, accessories and cabinetry are solid and dependable.

Eighty-two Moody 44s were built between 1991 and 1996, but very few found their way to the U.S., and today we know of only three in this country one on Cape Cod, Mass., one in Chesapeake Bay, and the third our Astral, based in Rhode Island. Back in 1992, a new Moody 44, ready to cruise, could be purchased in the U.S. for about $225,000; in early 1999, that same boat, well cared for and loaded, might command from $225 to $250. Three 44s were on the market as we went to press. The asking price for a '92 model in Massachusetts was $249,000.

These are pretty nice prices for a well-thought-out boat with a modern design of recent construction. Moody has made a science of cutting manufacturing costs without compromising the product. The conduit steering system, for example, is easy and economical to install; at the same time, the helm is responsive and boat tracks like a freight train. Color scheme? Taking a page from Henry Ford's book, any color you want so long as the hull is white; the bottom, cove stripes and sheer stripes are blue; and the nonskid is gray. Hey, that's our kind of thinking!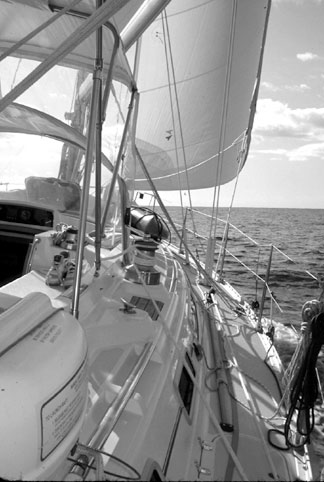 Boat Specifications
| | |
| --- | --- |
| LOA | 43'0" (13.1 m.) |
| LWL | 36'0" (11.0 m.) |
| Beam | 13'8" (4.2 m.) |
| Draft | Fin: 6'6" (2.0 m.), Shoal fin: 4'11" (1.5 m.) |
| Displ. (fin) | 23,000 lbs. (10,433 kgs.) |
| Ballast | 8,900 lbs. (4,037 kgs.) |
| Sail area | 994 sq. ft. (92.3 sq. m.) |
| D/L | 220 |
| SA/D | 19.7 |
| Fuel | 70 gals. (265 ltr.) |
| Water | 100 gals. (378 ltr.) |
| Auxiliary | 50-h.p., 4-cyl. Perkins or 50-h.p Volvo Penta |
| Designer | Bill Dixon |

Builder
Marine Projects (Plymouth) Ltd.
Newport Street Plymouth, Devon
PL1 3QG England
phone: +44 (0)1752 203666

U.S. Sales Offices
Signature Yachts
2476 Westlake Avenue North
Seattle, WA 98109
phone: (206) 284-9004