See more articles
Moomba Mobius LSV: Just Add Nothing
The 2013 Mobius LSV from Moomba is all new, and comes just right in standard trim.
If you need a new boat for wakeboarding or water skiing, there's one sure-fire way in which the Moomba Mobius LSV won't let you down: truth in pricing. One of the more discouraging aspects of shopping for a new boat is finding one that looks great with a price that's right for you, only to learn that the price tag has an asterisk next to it, with fine print at the bottom. Invariably, that fine print states that optional equipment is shown, but is not reflected in the base price listed. Rats. Fortunately, that scenario does not apply to Moomba's new Mobius LSV, a tow boat designed to deliver professional-grade wakes at a price point that only Moomba seems to be able to deliver.





Base price for a brand-new Mobius LSV is $51,680, and that includes a single-axle trailer with disc brakes and LED lighting. Well, truth be told, a Bimini top does not come standard, and we always like the shade they provide, so tack on the $650 option and call it good. According to the configurator — love that term — on Moomba.com, the Mobius LSV comes standard with a fuel-injected Assault 330-horsepower 5.7-liter small-block V8 from Indmar. You can get a 6.0-liter V8 with 420 horsepower, but because the Mobius LSV weighs only 3,400 pounds, you really don't need it and, more important, you won't miss it. The 330-horse engine provides plenty of oomph.

Other standard features, which indicate how appropriately this boat is geared to serious riders, include digital speed control, a multisport wake plate on the transom, and an Oz tower. What's more, the Gravity I ballast system, which holds up to 400 pounds of water weight for advanced wakeboarding and wake-surfing wakes, is also standard. Available in four standard colors, the Mobius LSV also comes with a Sirius-ready AM/FM CD stereo with four cockpit speakers, iPod control, and USB and auxiliary inputs.

The all-new Mobius LSV also has some interesting touches inside. For example, you get snap-in carpeting in the bow and cockpit, which are four and five inches deeper on the new Mobius than in the model it replaces. For ease of service, the fuel tank is still accessible via hinged decking, as is access to the transmission. At the helm, the dash is all-new, but it has a familiar, old-school feel to it. It's high and upright, with chrome-bezeled analog gauges and minimal switches. That's one way Moomba's parent company, Skier's Choice, is able to keep sticker prices down. But from a driver's perspective, it keeps things simple and easy to operate.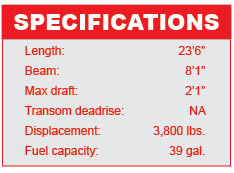 At the stern, Moomba designers included a transom seat for gearing up on the swim platform. They also included stowage compartments to either side of the engine, both of which extend forward beneath the lounges to port and starboard. Moomba engineers stiffened everything up, which makes for a more pleasant driving experience. They also left the running surface essentially unchanged from the previous Mobius, which means the important traits are still present. And you get all that for a no-nonsense price that really is as low as the advertised price would have you believe — which is one of the more encouraging aspects of shopping for a new Moomba.

For more information, visit Moomba.

-Brett Becker