See more articles
Moomba Mobius LSV: Winning the Popularity Contest
The best-selling boat in Moomba's line combines sophistication and simplicity.
No doubt anyone who steps into a Ford dealership to buy an F-150 draws some measure of comfort knowing the truck they are about to shell out for is America's best selling vehicle. In academic circles, it's known as social proof theory, a phenomenon in which the actions of a group provide tacit approval for the actions of an individual. Sometimes it's a good thing, as with the F-150. Other times, not so much—as with stonewashed jeans, mullets, or parachute pants.





In the case of the Mobius LSV it's a good thing. Like an F-150, this boat pulls the load, does so reliably, and does it at a price point buyers can afford.

Rick Tinker, president of Skier's Choice, parent company for Moomba and Supra boats, points out that the Mobius LSV is Moomba brand's best-selling model. "The lines are clean and simple, and with the optional multi-sport wake plate and Gravity III ballast system, this boat can produce wakes that will accommodate riders from novice to advanced."



With base MSRP of $43,840, the Mobius LSV comes standard with a Rad-A-Cage tower, digital speed control, and a fuel-injected 325-hp Indmar V8. It also comes with a color-matched single-axle trailer with torsion-bar suspension, disc brakes, and a swing-away tongue. With 325 horsepower, the 3,300-pound boat is plenty responsive, but it's nice to know Moomba offers 340- and 409-horsepower engine options.

The base price also includes the Gravity I ballast system, which consists of one bladder below the sole of the cockpit. For an additional $1,485 you can add the Gravity III system, which includes two more ballast bags in the rear, for an additional 1,200 pounds of weight. More advanced riders will want the added ballast and probably the multisport wake plate too, for another $1,060.



The new-for-2011 V2 optional tower package includes fixed board racks and a built-in bimini top. It features a forward-canted design with a spring-assisted fold-down mechanism. Because it mounts behind the driver and has no forward supports, it improves visibility to the front and sides. It also adds $3,995 to the price.

In terms of options, the watersports packages are about all you need if you are going to be pulling advanced riders or riders eager to learn. Add a $560 mooring cover to keep dust out of the interior while the boat's not in use.

Up front, the bow area features angled backrests for comfort, and more padding than an insane asylum. A bow filler cushion is available for $195, but cockpit carpeting is standard.



At the helm, the trend lately among tow boat manufacturers has been to control everything via large digital display screens, which are nice but expensive. In the Mobius LSV, gauges are analog, easy to read, and laid out for the driver simply and logically.

Constant-speed control and throttle control, however, are both digital. As dedicated skiers and wakeboard-riders know, its good to be able to dial in and maintain a speed specific to the preferences of the rider/skier behind the boat. It can be difficult to modulate the throttle to maintain a steady speed when the rider is pulling hard from left to right. Thus the importance of constant-speed control: When it's engaged, it controls the throttle automatically; when disengaged the throttle is operated manually, but still with digital signals.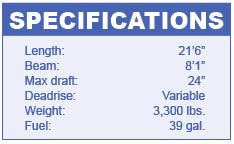 In the cockpit, the Mobius LSV comes with ample seating from the observer's lounge all the way around to the back of the helm bucket. Manufacturer specs say there's room for 13, but that seems crowded. There's stowage beneath all cushions and a lot more beneath the side-opening hatches flanking the engine compartment, even with the Gravity III ballast system.

Iif you do end up buying a Moomba Mobius LSV, you can take comfort in knowing a lot of other people have made the same choice. However, even if it were less popular, it would still be one of the best values on the tow boat market.

For more information, visit the Moomba Mobius LSV web page.



Editor's Note:
Brett Becker
is a freelance writer based in Ventura, CA. He covers the marine, automotive and racing industries for various print and web titles.