See more articles
Moomba Mojo 2.5: Wide Track Tow Boat
This 2012 model has plenty of room forward, good standard features, and a balanced option list.
Even if you have been paying only divided attention to the tow boat market, you know that the pickle-fork and wide-bow designs are hot right now. They could sizzle for some time, because the appeal is more than just aesthetic. The wide-bow design opens up more space in an area not normally known for being particularly roomy, and that's a welcome characteristic.





Moomba's Mojo 2.5 capitalizes on that design trend. It comes standard with watersports features such as an Oz tower and the Gravity I ballast system, which has one tank beneath the sole that holds up to 450 pounds of water, and digital cruise control.

You also get a four-speaker, SiriusXM-ready, AM/FM CD stereo with iPod connectivity, a 330-horsepower Indmar V8, and a dual-axle Boatmate trailer with LED lighting and disc brakes. Snap-in carpet is also included on the base model.

Another trend that took hold during the boom times earlier in the decade was the elevated price tag that seems to come with mainstream manufacturers' wakeboard boats. Fortunately, this is where the Moomba Mojo 2.5 diverges from much of the market. Retail price for the Mojo is $52,980 with all the aforementioned equipment, plus tax, freight, and dealer prep. This is refreshing in a market segment that often veers close to six-figure price tags.

"The Mojo was designed to give wide-bow buyers an appealing wake boat option that is as high-performing, simple, and reliable as it is accommodating, all while coming in under budget," said Amy Mauzy, marketing director for Skier's Choice, manufacturer of Moomba Boats.

Of course, anyone familiar with Moomba boats knows the company has earned a reputation for offering substantive models at reasonable prices. Given the languishing economy, the approach makes perfect sense.

Up front, the bow comes with two forward-facing lounges to either side and one rear-facing seat front and center. The entire bow area is surrounded with padded upholstery on the coaming panels and two of the four standard speakers. The foredeck features a navigation light at center, and molded recesses that mimic an automotive-style hood scoop. It is handsome, but might have been more useful if it were designed as a forward swim platform.

On the inside, the Mojo 2.5 offers abundant deck space and ample stowage and seating in and on its G-shape lounges. There are plenty of grab handles and cupholders, and lots of padding for when the ride gets bumpy.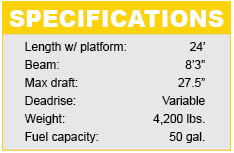 At the helm, Moomba hit its price point by forgoing the sophisticated electronic dashboards of its competitors (and sister company Supra). Instead, the dash is simple and straightforward with twin private-labeled analog gauge assemblies that contain tachometer, oil pressure, and voltmeter on the left and speedo, water temperature, and fuel level on the right. The tach and speedo feature minimal needle sweep, so that a driver can read them quickly and easily. The helm seat also comes with a flip-up thigh bolster, a first for Moomba.

Naturally, some buyers will want to add a few features to make the boat their own, and there are a few options worth recommending. For example, the bow filler cushion is a bargain at $210 and helps make the most of the wide-bow design. The canvas bimini top is a must, and it too is well priced at $650.

For watersports, a lot of buyers will opt for the pair of tower-mounted swivel board racks for $725. Some will even go for the Gravity II ballast system, which holds up to 1,250 pounds of water ballast for laying down monster wakes. At $1,485, that's among the most expensive of the Mojo 2.5's options. But even with all those options, the Mojo rings up at $56,050. Which still can be considered a bargain, a tow boat just right for our times.

For more information, visit Moomba.

—Brett Becker