See more articles
Moomba Outback: A Grownup Boomerang
This agile skiboat comes standard with high-end equipment, including a trailer.
One of my favorite tow boats of all times isn't made anymore. Moomba ceased production of its Boomerang in 2000, but it still stands out in my mind for a number of reasons.

First, it was incredibly agile because it was small and light. Weighing less than 2,000 pounds and measuring less than 7 feet wide, it was a lot of fun to drive. With the optional carbureted 325-horsepower Indmar engine, it was quick, too. When I worked as a performance tester for WaterSki magazine, the Boomerang was always the quickest boat on the market. Always.

And it was affordable -- $19,995 on a trailer, which was about the average price of a passenger car at the time. The funny thing is, there are used Boomerangs on the market at nearly 75 percent of original sticker price.

The Boomerang is gone, but the spirit behind it is not. Moomba still makes an affordable, quick, and light boat. Now it's called the Outback, and it is one of my new favorites. With a base price of $35,495, the Moomba Outback is still a value leader in the towboat market. Especially considering the list of standard features—or even the boat itself.





"With a wakeboard tower, digital cruise control, Indmar 5.7-liter 325-horsepower engine, and a Boatmate trailer all standard, the Outback proves that paying less for your tournament boat doesn't mean getting less for your money," said Rick Tinker, president of Skier's Choice. "At Moomba we have always been focused on providing the best quality and performance at the most reasonable price. And for 2011, this versatile and affordable boat is even more appealing. Thanks to the new colored deck and a host of new gelcoat options, the 2011 Outback gets a fresh, new look but keeps its iconic hull that has been towing tournament-level slalom sets for more than a decade."



In many instances, features such as a tower, digital cruise control and a trailer aren't part of the advertised base price, which means buying a boat the whole family can use involves spending more money. With the Moomba Outback, you can get a base boat and be perfectly happy with it—because it has the features you need right out of the box.

Two other options you might want or need are the bimini top for $650 and the Gravity I ballast system for $695. Even then, the boat is still a bargain.



In standard trim, the boat comes with a one-piece deck, which also includes the cockpit sole in the bow area. The bow offers seating for two comfortably, with cupholders, grab rails, and a nonskid gelcoated sole.

The helm features simple and straightforward instrumentation, an armrest above the throttle, and a fore-aft adjustable driver seat with a flip-up thigh bolster. Audio controls lie to starboard on the gunwale. To port, the observer position has the stereo concealed in a locking glove box and a seat with stowage underneath.

Out back (pun intended), Moomba designers performed a neat trick not often seen on direct-drive inboards. They moved the seat forward a bit to make room for a trunk roomy enough to hold a pair of skis. The ballast tank is concealed beneath the floor of the trunk locker. What's more, they made the rear bench cushion so that it can be removed and placed on top to create a nice, wide pad. It's not as large as you get with a V drive, but it's close.

In addition to the tower, the Outback comes fitted with a ski tow just forward of the engine box and a tow eye on the transom for pulling tubes and kneeboards.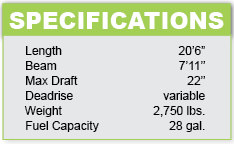 I guess if I had to characterize the Moomba Outback in a few words, I'd call it a grown-up version of the Boomerang. It's still light, quick, and affordable, but it's fitted with more great features for a more well-rounded package. The Outback won't keep me from reminiscing about the Boomerang, but it demonstrates that the same spirit is still alive and well at Moomba.

For more information, visit the Moomba website.



Editor's Note:
Brett Becker
is a freelance writer based in Ventura, CA. He covers the marine, automotive and racing industries for various print and web titles.