See more articles
Nautique 200: Time for a New Ski Boat?
The latest from Correct Craft continues a tradition of innovation and development on tournament inboard boats.
When the press release hit my inbox, I was surprised. Shocked even. Correct Craft was releasing its new Nautique 200 tournament inboard ski boat. Not a multisport boat, not wakeboard edition, not even a family-oriented watersports model. A tournament ski boat, and you could even get one with a closed bow.




Even as I write this brief, I'm still kind of stunned, not only because all-new tournament inboards are rare, but because the boat is, well, stunning. As bad a skier as I am, I've always loved tournament inboards, particularly closed bow models, because they were always the most fun to drive. They're nimble and light, responsive and quick, something most recreational boats are not.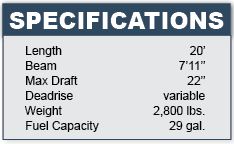 Just look at the specs. The Nautique 200 weighs just 2,800 pounds, which is positively feathery. It measures 20 feet long on the nose and less than 8 feet abeam, and it can be had with up to 409 horsepower. It carries 29 gallons of fuel and draws less than two feet of water at rest. Sounds like fun.





Available in closed- and open-bow configurations, the Nautique 200 comes with teak inlays on the gunwales and foredeck. Beneath the gunwales on both sides, there is a carpeted ski locker. Correct Craft calls them "saddlebags." There is also additional ski stowage beneath the observer seat and a bit room for more gear under the rear bench.

Correct Craft used teak on the dashboard and foredeck of the closed-bow model to allow for boarding and debarking from the bow and for securing a line to the forward cleat. Just step over the windshield and onto the recessed teak inlay. It's pretty neat, but a center-opening windshield would make it better.



At the helm, Correct Craft took a different approach by putting the instruments to the right of the steering wheel, just forward of the throttle, rather than behind the wheel. It sounds crazy, and some may find it a bit odd, but Correct Craft executed it in such a way that it really works.



Out back, where most of the action is, the Nautique 200 features a transom design reminiscent of the tumble-home runabouts from the early 20th century. It features a teak inlay on the step atop the transom, another step which doubles as a seat for putting on a ski. The swim platform also is treated with teak inlays.

Although this boat was undoubtedly in the works for a few years, it's still surprising to see Correct Craft introduce it in this economy. In open- or closed-bow configurations, the Nautique 200 is sure to please the most demanding slalom jocks, whose population is no longer what it once was, and it marks a big push forward in the evolution of the direct-drive tournament inboard.

Correct Craft doesn't publish its retail prices. The company instead prefers that customers call 407-855-4141 or visit their website to find a local dealer who will price it for them.

Editor's Note: Brett Becker is a freelance writer based in Ventura, CA. He covers the marine, automotive and racing industries for various print and Web titles.