See more articles
Nautitech Open 40: Quick Video Tour
Take a look at the expansive cockpit, spacious interior cabin and palatial sleeping accommodation aboard the 2015 Nautitech Open 40.
UK boating expert Rupert Holmes came across the 2015 Nautitech Open 40 at the London Boat Show. When he saw the big and surprisingly spacious cabin, naturally, he decided to shoot a First Look Video of this sailing catamaran.


Sailing catamarans have become extremely popular in the past few years, especially in the charter world. We've seen new models that are relatively close in size and purpose, like the Balance 451, the Gemini 35, the Leopard 39, and the Lagoon 440. At the same time, larger, more luxurious sailing catamarans have also been hitting the waters—recent models include the Discovery 50, the Catana 59, and the Privilege 615. But even more impressive are boats like the TAG 60, sailing catamarans that offer a serious performance edge to go along with the luxury (the TAG is an all-carbon boat capable of sailing at 20 knots).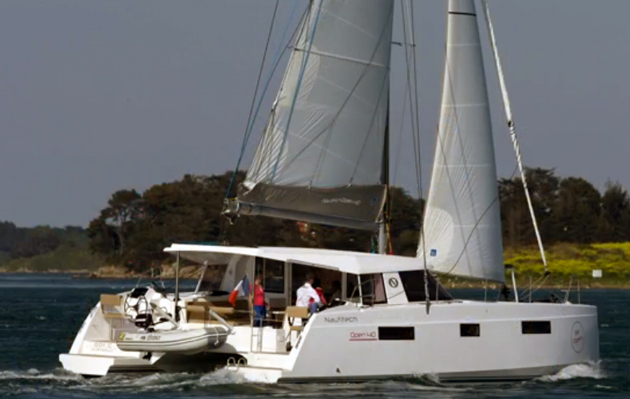 What's with this cat attack? Why are so many builders focusing on relatively large sailing catamarans? Their additional volume and comfort seems to have finally trumped the biggest complaint we hear about catamarans: that they look odd. You can see their popularity in our listings, too. Do a search for "Sailing catamarans," and you'll find around 300 models currently for sale. Or, perhaps after watching this First Look Video the French-built Nautitech Open 40 looks like the perfect boat for you. If that's the case, take a gander at these Nautitech listings. Or, to get the company's take, visit Nautitech.