See more articles
Boat Review: Neel 45 Trimaran
Our reviewers have flocked to the NEEL 45. Tim Murphy explains why this boat has stuck with him, several months after stepping aboard.
There are many boats today that promise 200-mile days. But among monohulls such boats pose two serious problems for cruising couples. Since speed is a function of waterline length and seakindliness is a function of displacement, many boats in this category tend to be massive (enormous mainsails, heavy anchoring gear, huge loads to manage in every dimension). Alternatively, the monohulls that achieve speed through light displacement subject their crews to a constant acceleration and deceleration that's fun for an afternoon but exhausting over long passages in a seaway.





Among multihulls, cruising catamarans have matured in the last decade and a half far more thoroughly than trimarans have. After some initial missteps—overpromising speed but lacking the buoyancy in the hulls required for the gensets and refrigeration and air-conditioning that customers were actually installing—today's cats by and large have found their niche, with Gunboat and Outremer marking the speedy end of the continuum and companies like Lagoon, Fountaine Pajot, and Leopard marking end where cruising comfort meets reasonable speed. Still, cats categorically exhibit a snappy motion at sea.

Trimaran Background

Trimarans, meanwhile, have tended to stake out the speedy end of the continuum, at the expense of cruising comfort. Such companies as Corsair, Dragonfly, and Contour, as well as a host of smaller builders, have concentrated all the living space inside the narrow main hull and reserving the outer amas for light stowage. By and large, the result is camping accommodations inside a very sporty boat.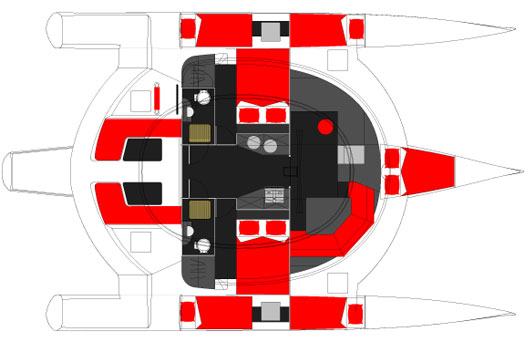 With the Neel 45, creator Eric Bruneel has artfully returned to an older idea. Rare among today's trimarans, this boat's accommodations are located up on the bridgedeck, with two queen staterooms, each with its own head, extending athwartships to the amas. Forward of these, still on the bridgedeck, is a simple European-style galley, spacious dinette, and one of the best inside nav stations of any boat in production today—offering full visibility forward underneath the foresail. From this level, steps lead down to a cozy double V-berth forward. Tankage and ample machinery space is located under the cockpit and cabin sole.

Sailing the NEEL 45

I first saw the Neel 45 at the Annapolis boat show in 2012 in two visits, first at the dock, then underway on Chesapeake Bay. This is a boat that utterly comes alive underway. Far from the jerky motion of cats, this boat gives an impression of floating through space, even flying, as her windward ama barely skips across the wavetops. The Neel's motion reminds you that beyond all the quantitative elements of a sailboats performance—seconds per mile, miles per day, tacking angles, polars—there's a qualitative experience of speed that's independent of all these things. The experience of sailing the Neel is simply dreamy.

As the managing director of Fountaine Pajot, Eric Bruneel built more than 2,000 cruising catamarans before he took a sabbatical to build his own racing trimaran, the Joubert-Nivelt-designed Trilogic, for the 2004 Singlehanded Transat. To save weight and make life easier for himself, he spec'd a smaller rig than his competitors—a bold decision that proved its worth after Bernard Stamm's boat lost her keel and capsized, Jean-Pierre Dick's boat capsized and distmasted, and Vincent Riou's rig came down. In the same bruising conditions, Bruneel stayed below, analyzing weather plans and focusing on tactics. In the end, he won his class. The following year he took class honors in the Rolex Fastnet Race.



How Neel Trimarans Got Started

In 2009 Bruneel left Fountaine Pajot and started Neel Trimarans soon afterward. While the Neel 45 is nothing like Trilogic—a cruising boat is not a racing boat—the same modes of thinking have gone into her design. Again, Joubert-Nivelt designed the boat according to Bruneel's thorough specs. The 645-square-foot mainsail is simple to manage. A pair of block-and-tackle mainsheets at the aft end of the boom offer full sail-shaping control without a traveler; off the wind, it's easy to bring one of the blocks out to the ama for the wide angles. A self-tacking jib and a bow-thruster simplify sail-handling and maneuvering in the harbor. In 15 knots of breeze, we reached at just over 11 knots boatspeed, with a motion that was nothing short of joyful. With a 55-hp Volvo pushing us at 3,000 rpm, we made 10 knots; 9 knots at 2,500 rpm. At the time, Bruneel said the top speed he's seen was 20.5 knots, but that in comfortable cruising mode the boat really likes to settle in at 10 knots and reel in the miles.

Specifications
Length
44'0"
Beam
28'0"
Draft
4'0"
Mast Height
63'0"
Displacement (light)
14,560 lbs
Displacement (full)
20,160 lbs
Fuel capacity
65 gal.

In addition to the 45, Neel is building several larger models, up to 65 feet.

Cruising boats set up a formidable tangle of clashing design problems. It's a real treat, a rare treat, to find a design that responds to them so eloquently.

View listings of NEEL 45s for sale

Read more about the Neel 45