See more articles
Beneteau Oceanis 523 Clipper: A New Flagship and New Range for Beneteau
Debut of the 523 and Cycladis range at the London Boat Show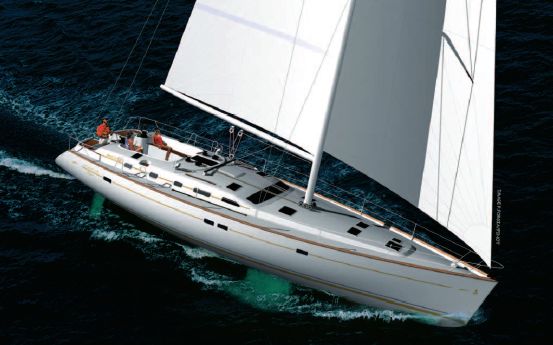 Replacing the Oceanis 50 was never going to be easy for Beneteau. The 50 didn't just lead its class - it was widely recognised as a modern classic. Now, however, its long-awaited successor, the 16.2 metre Finot-designed Beneteau Oceanis 523 Clipper, is ready.

More to the point, it is scheduled to be unveiled on the Beneteau stand (stand N1397) at the 2005 London International Boat Show. As you would expect of a new flagship for the Oceanis range, the 523 Clipper will be offered in several configurations, ranging from a two-cabin/two-head owner layout, to a five-cabin/five-head charter version.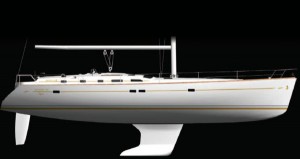 The 523 Clipper is not the only upgrade to Beneteau's Oceanis range for 2005. The twin- or tri-cabin Berret/Racoupeau 10.6 metre Oceanis Clipper 343 was launched at the Southampton Boat Show in September. Its production is already sold out until May 2005.

Beneteau's First performance sailboat range also gets upgrades for 2005. In its smallest segment, new Finot-designed lifting keel 21.7, 25.7 and 27.7 models are being introduced, while the popular 31.7 and 36.7 are being produced in a limited 'Distinction' edition with an unusually comprehensive inventory and striking grey livery.

Beneteau is on record as wishing to "assert its worldwide leadership" and improve its sailboat sales by 50 per cent for the period 2003-2008. Given that its forecast for the industry's growth is about half this figure, the company will clearly need to increase its market share to hit its target. The evidence suggests it is positioning itself to do precisely that.



Beneteau Sailing Project Director, Eric Ingouf, highlights how the profiles of its customers are changing. The emphasis is shifting from simple cruising, holidaying and travelling towards a much more comfortable and cohesive experience aboard ship. To meet this demand the new Cyclades range will be launched next year to sit alongside the existing Oceanis models.

The first model off the standalone production line will be a 13.25 metre Cyclades 43, designed by Beneteau regulars Berret and Racoupeau. This features a sociable cockpit with a large table and easy access, crew-friendly sail handling and, to make the decks more accessible, shroud plates on the topsides.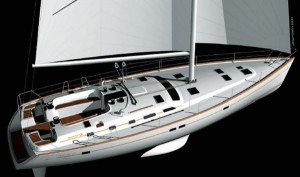 Down below, the Cyclades 43's emphasis is on space, light and ventilation. The layout features three cabins and three heads, and a saloon area that includes a forward-facing chart table area. Stowage is generous, as is the water and fuel tankage (at 770 litres and 220 litres respectively).

The first Cyclades 43 will be unveiled at London Boat Show, making this its world debut. Its target price is ?88,500 (approximately $172,000 US) and deliveries are expected to begin in March or April 2006. Future Cyclades models include a 39 and a 50 that will be unveiled later in 2005.



Designed by the Finot Group, this new hull reuses all the elements that made the success of the Beneteau 50 and the latest evolutions in the Oceanis range : fast hull with clear deck plan, rear cockpit with two wheels, coachroof on two levels with large panoramic window, spacious well ventilated accommodation, with a choice of top-of-the-range equipment, to go further quicker!

Beneteau 523 Specifications
Naval Architect
Groupe Finot
Length Over All
16.20m
53 ft
Hull Length
15.89m
52 ft
Hull Beam
4.88m
16 ft
Light displacement (approx.)
15000kg env.
Max Engine Power (Hp)
100 CV
Fuel tank capacity
450 l
118 gal.
Berths
4/12 persons
CE Certification
A/B/C
Sail Area (sqm)
151 m2
1625 sq. ft
www.beneteau.com