See more articles
IBEX News from Mercury: New Enertia ECO and Spitfire Propellers
A new propeller aimed at offshore anglers running Mercury Verado outboards is designed to boost fuel economy at cruising speed. And an updated Spitfire is intended to improve acceleration and handling.
Enhanced fuel economy is the design goal of the new Enertia ECO propeller introduced by Mercury Marine  this week at IBEX (International Boatbuilders Exhibition and Conference) in Louisville, Ky. The three-blade, stainless steel Enertia ECO is the first prop from Mercury Marine engineered specifically to improve efficiency, according to Dirk Bjornstad, Mercury propeller marketing manager.

"In the past every Mercury propeller has been designed to optimize performance, either hole-shot or top speed," said Bjornstad. "The Enertia ECO was created after conversations we had two years ago with offshore anglers at the Miami boat show and other events. These are anglers running multi-engine boats 60 or more miles offshore, who said they never run wide-open anyway. What they really wanted was better fuel economy. The Enertia ECO can deliver up to 10 percent better economy at cruising speed compared to our standard Enertia props."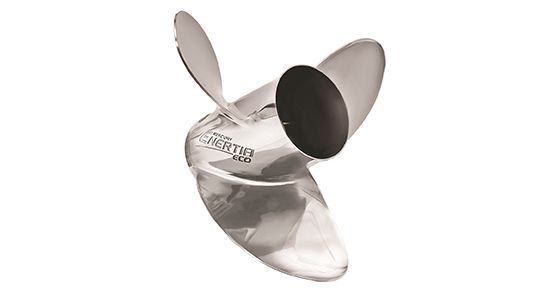 Intended for use primarily with Mercury Verado outboards, the Enertia ECO is designed to operate most efficiently at 3200 to 3700 rpm, the engine speed range that typically produces the optimal cruising fuel economy. To maximize blade area, the prop has a 16-inch diameter, the largest size that will fit on a Verado gearcase. That blade area helps the Enertia ECO hold a heavy fishing boat solidly on plane at slower speeds, according to Merc. The other key design element is the shape of each blade, which has dramatically progressive rake (the angle of the blade to the hub) that intensifies at the blade tip. This rake profile gives the prop outstanding bow lift, which in turn reduces wetted hull surface and drag, further enhancing efficiency.

I expected a top-speed trade-off, but Bjornstad said the compromise is minimal. "We really expected to see a bigger drop in top speed, but it's typically only about one mile per hour," he said. "Hole-shot is unchanged."

Bjornstad told me that Verado outboard owners who fish offshore (as opposed to those with pontoon boats) average 95 hours of use a season, which is roughly twice the time of the average American boat owner.

"Of course some of that time is spent at idle or trolling speeds," said Bjornstad. "But even taking that activity into account, the Enertia ECO can cut fuel cost by seven to eight percent over the course of a season. That can really add up when you are filling the fuel tank of a big center console."

The Enertia ECO will reach Mercury dealers and boat builders in January 2014, and will be offered in right- and left-hand rotation in four pitches: 17, 19, 21 and 23 inches. MSRP will be $795.00, which means unless you need a new set of props, it might take a season for the gain in economy to begin to pay off.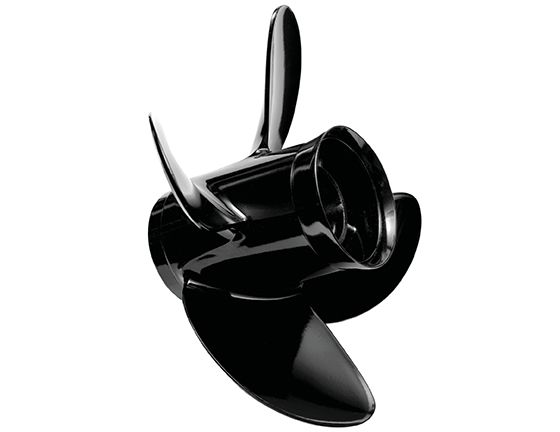 New Mercury Spitfire Debuts

Also at IBEX, Mercury Marine revealed a new version of its four-blade aluminum Spitfire propeller to match the gearcase of the MerCruiser Alpha One sterndrive and Mercury 150 FourStroke outboard. The Spitfire, introduced last year for Mercury 25 to 125 horsepower outboards, is intended to deliver better acceleration and handling than the three-blade aluminum Black Max prop. Mercury says the Spitfire is a cutting-edge design and the most-aggressive aluminum prop it's ever offered, with lots of blade cup and rake for strong acceleration and hull lift. MSRP will be about $200, a lot more affordable than a four-blade stainless steel prop.

For more information, visit the Mercury Marine propellers web page.