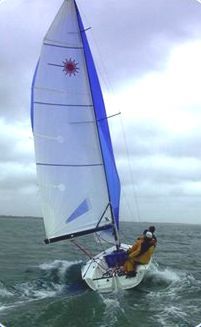 The UK's Laser Centre teamed up with Tony Castro to create new the Laser SB3. Tony Castro Ltd has a world-renowned reputation for designing excellent products within the yachting industry. They have proven success in sportsboat design together with many major successes in other keelboat classes worldwide.

Laser's brief to the designer was simple enough; to produce something really special that others had failed to do. With help from Selden Masts and Hyde Sails the Laser/Castro team soon developed an understanding of what was required and produced a stunning boat.

The result is the SB3: a small, lift-keel Sportsboat. With an overall size of six metres coupled with a beam of 2.15 metres, Tony's design is comfortable to sail with three to four people, and economic to buy and maintain. Its lift-keel also makes the boat easy to launch and towable behind the average car.

The new Laser SB3 is a fast and exhilarating three man Sportsboat with a powerful modern rig. The boat has amazing stability and a clean uncluttered cockpit that gives the three crew members enthusiastic racing in comfort, without the aches of highly physical sailing.

As with all Laser products the new sportsboat will be sailed as a class, to strict one design rules, but will also measure to the Sports boat rule for handicap regatta sailing. Class rules have been drawn-up using a successful template from which Laser has launched many new Classes. The upper weight limit for the three crew has been set at 270kg (a fourth crew member will be allowed if required).

A small crew with easy access to perfectly positioned controls means that everyone on board has a key role in the performance of the boat. All crew face into the boat allowing easy communication and a comfortable dry ride.

All loads on the Laser SB3 are light - more high performance dinghy than keelboat. Fit-out is Harken, spars by Selden and sails by Hyde, the result is an exhilarating and fulfilling ride.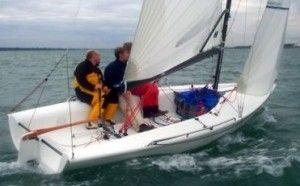 The SB3 is incredibly 'stiff' in the water. A very high ballast ratio gives the boat plenty of stability - which allows the sit-in rule to be implemented. Bars on the edge of the gunwhale physically prevent hiking - helping those who are less athletic and making sailing the boat with your friends a much more involving experience.

The deck layout is simple and clean. The majority of controls are based around the back of the mast and the mast base, with all rope tails led to pockets on the gennaker bag.

Laser also developed the boat with a generous sail plan. The strong masthead rig comes complete with backstay, supporting a high aspect ratio plan form, a non-overlapping jib with battens, and a mylar combitec mainsail. A 46 square metre gennaker provides excellent performance downwind.

Mainsail and Jib are manufactured from X-Ply Mylar. Both sails are full radial cut, with stitched seams, providing durability and strength. The jib incorporates battens in the Leech - promoting durability and even twist in the sail. A three hole clew plate is used for sheeting angle adjustment. The mainsail has one full length and three short battens. Large windows in the Jib and Mainsail offer a wide field of view.

The gennaker is manufactured from .75 oz dynalite - a silicon coated nylon. It is cut with a high clew for excellent downwind visability.

The mast is a deck stepped Proctor Selden 4028 alloy double spreader mast, black anodised with custom taper. Harken hardware / Spinlock PX jib halyard jammer. 400mm angled backstay crane.

The boom is a Proctor Selden black anodised super stiff 120 / 62 alloy boom section.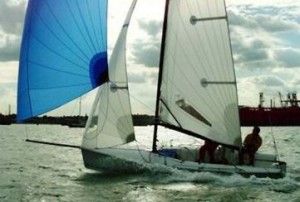 The spinnaker pole is a Retractable Proctor Selden tapered 81 / 52 filament wound carbon tube. The rudder is reinforced with carbon and manufactured from epoxy with an epoxy foam core.

The low aspect keel consists of a stainless steel main member with an epoxy foam core and polyester skin. Incorporating a lead bulb of 335KG at the base.

Laser SB3 can be towed behind the average family car, launched from a slipway, rigged by two people (quickly) and enjoyed by all age groups.

The SB3 retails for £14,995 inc VAT, and Sails.

Displacement: 625Kg (ex Crew)
LOA: 6.1m
LWL: 5.50m
Beam: 2.15m
Draft: 1.5m

Sail Area:
Upwind: 27.3m2
Downwind: 73.3m2

For more information about the SB3 or to sign up for a priority demonstration please contact Richard Gibson richard.gibson@lasersailing.com, or +44(0)1295 268191.

Laser Centre
6 Riverside
Banbury, Oxon, OX16 5TL, England
Phone +44 (0)1295 268191
Fax +44 (0)1295 273682
info@lasersailing.com
www.lasersailing.com