See more articles
Nitro 290 Sport: Exploding With Possibilities
Fishing prowess, sure; but this boat can adapt to a variety of waterborne pleasures.
When you think of Nitro boats, bass fishing is the first thing to come to mind—followed by bass fishing, bass fishing, and more high-octane bass fishing. Spend an afternoon on their 290 Sport, however, and you'll realize it's time to change that mind-set. Sure, this dual-console rig can be used to chase ol' bucket-mouth. But it's also designed to please those family members who want to go water-skiing one day, and troll in open water for walleye the next.





The 290 we tested was powered by a 225-hp Mercury Optimax outboard; paired with this powerplant you won't experience the eye-watering speeds Nitro's bass boats are known for, but with a 53.7-mph top end, performance is still thoroughly exhilarating. And thanks to the transom deadrise of 18 degrees, you'll crunch and munch through a slight chop at speeds like this without even noticing. Dialed back to a 4500-rpm, 42.5-mph cruise, re-entries from two-foot boat wakes are smoother than you might expect. Along with the V in the hull, give some credit to this boat's seating. The adjustable flip-up bolster pedestal seats are extremely poofy and comfortable, and even the aft jump seats—which are commonly small, rigidly-angled back-breakers on boats of this nature—are comfy. Plus, they fold down flat to become part of the aft casting deck.

Anglers will be relieved to find that other fishing features haven't been sacrificed to make way for the boat's different uses, either. There are livewells both forward and aft, fed by a 750-gph pump; five different pedestal mounts for fishing seats; a 24-volt, 70-pound thrust Minn Kota trolling motor on the bow, and port and starboard rod lockers. The locker's hatches are on the flimsy side, so there's room for some improvement here, but the compartments will hold just about anything except fly-fishing gear since fly rods are over 7'6" long. Once you pull your rods out of there, you can expand on this boat's fishability by deploying the stowable, foldable, carpeted foredeck extension platform, which turns everything forward of the windshield into one massive casting deck.



When the fish aren't biting and everyone on board is ready to move on to other forms of boating pleasure, the 290 Sport is ready, too. The carpeted aft deck transitions to a nonskid fiberglass swim platform at the transom, with a fold-out telescopic swim ladder on the port side and a rope locker to starboard. Plug the ski pylon into the receiver, grab a wakeboard out of the big stowage locker in the cockpit sole, and get ready for some serious fun. When the afternoon turns into evening, the 290 is ready to serve yet another purpose: Just drop the removable table into place, and the cockpit becomes prime territory for a sit-down supper.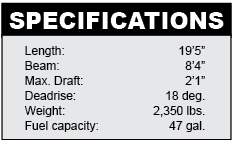 Some serious thought and innovation clearly went into the 290 Sport, and that allows it to serve several purposes at the same time. So the next time you think about Nitro, don't merely think about bass fishing—expand your mind, to match this boat's expanded nature.

Comparison shoppers will want to see the Stratos 486SF Fish & Ski, Ranger 1850 RS, and Skeeter SL 190.

For more information, visit Nitro Boats.

- Lenny Rudow