See more articles
Beneteau First 40.7: No One's Calling Them Beachballs Anymore
The Beneteau 40.7 has swept IMS racing around the world this summer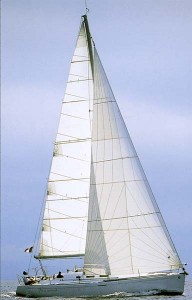 Whichever way you look at it, the racing successes of the Beneteau 40.7
have been quite phenomenal, and it would seem that its bigger sister, the
Beneteau 47.7, is heading in the same direction. It doesn't seem to matter
which system of handicapping has been used, the 40.7 comes out on top; and
the 47.7 proved at Ford Cork Week and Cowes Week that it is an able
performer as well.

This is a series production cruiser/racer, not a one-off special, and it was — somewhat derogatorily — dubbed "Beach Ball" in Australia before it made its full impact on the offshore racing scene there. Today, the term is still used, but in a manner of open respect for the boat's ability to produce performances that belie its outward appearance.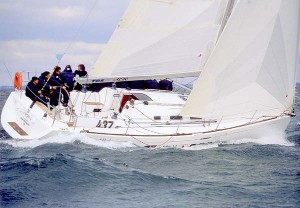 Beneteau asked Bruce Farr Yacht Design for a boat that would be as much at
home cruising as racing, but it added that this boat must be able to hold its own against boats of a similar size. The 40.7 received considerable thought,
but Farr says that there was nothing magic about it: "We just designed it
around the required parameters." One senses, however, that he is not one
of those surprised by the 40.7's performance.

"It wasn't designed as an IMS boat," Farr says. "It may have some good
IMS features and these have proved [to be] good for IRC." IRC is the handicap
system, previously known as Channel Handicap (CHS) under which the majority
of racing in Europe is held. One 40.7 was top scorer in the Rolex
Commodores' Cup two years ago and has since raced under both IMS and CHS with
great success.

So what has made this boats so successful — the performance of Chris
Whiston's Smile as top overall points scorer in the recently-finished Kenwood Cup in Hawaii would confirm this — and has the success been helped either by construction or by the way this boat is sailed? It is almost certainly a combination of design and all these other facets that makes Beneteau so successful.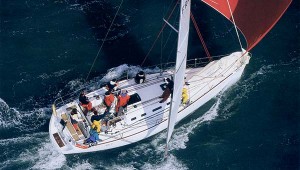 It could be because these boats are now in an environment where those who produce the Rating Rules are attempting to properly handicap the production
designs. IMS has a sophisticated scheme that is applied, and IRC has its
own secret methods of attempting to make the playing field level.
Designers look to the dynamic effects of construction, which is why the
out-and-out race boats are highly sophisticated in their laminates; and
they believe that, while production boats might not be badly affected in
flat water, they should suffer in a seaway. Smile and her sistership, Neil
Whiston's Fruit Machine, which was third on points in Hawaii, would tend to
prove that hypothesis incorrect.

With years of experience and expertise, Beneteau is one of the world leaders of production sailing boats, which are built solidly to accept less-than-perfect treatment. Both the 40.7 and the 47.7 are good all-around designs, with the latter "perhaps a step backward to a more cruising-oriented boat, but a step forward in hull shape development," according to Bruce Farr. The 47.7 (Doug Flynn's Kirribilli), which was second on points to a specialist one-off in Cowes Week, was immediately taken cruising by the owner and his family.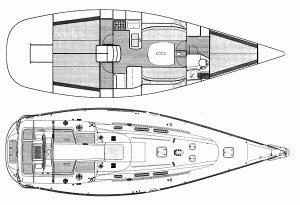 The 40.7 is a moderate- to heavy-displacement boat with a relatively low
sail area-to-displacement ratio. There is enough sail to give the 40.7 and
its bigger sister good acceleration. The hulls are easily driven, which
supports a conservative displacement-to-waterline length. Under IMS this
extra displacement is somewhat compensated by the standard boat's rig
weight which, keeping the stability to within rating efficient levels, is still relatively low (40.7 RMC of 174.1).

The 40.7 has been around the racing circuits for almost three years and
continues to record winning performances; and the 47.7, which has just
joined it, looks as though it will be a massive threat to the one-offs as
well. Maybe Bruce Farr Yacht Design pitched it exactly right for Beneteau
to provide its customers with race winners with a fun factor. The
results would point that way.