See more articles
Nor-Tech 420 MC: Go Euro
Nor-Tech hopes to hit a home run with the 420 MC, in both European and domestic high performance boat markets.
High performance boat fans may see the Nor-Tech 420 MC retro-style launch and wonder if the company is abandoning its custom catamaran and V-bottom roots. Worry not: Trend Schou and Nils Johnson, the two colorful Norwegians who founded Nor-Tech, still have their hearts and souls in the go-fast boat world. But thanks to the global economy, that world has taken a serious beat-down in the past few years. So Nor-Tech has diversified.




This example of Nor-Tech's reach into new markets is based on the same hull as their 39-footer—the deck of new model has been extended—and is equal parts retro and Euro. The result is a versatile day boat that looks vintage but is very much a product of today.

"With the 420, we're going after the same buyer in the States and abroad who might also look for a Riva or something with similar styling," said Terry Sobo, Nor-Tech's director of sales and marketing.

With a pair of 370 hp Yanmar diesel engines providing the power, the boat reportedly tops out at 62 mph. With twin Mercury Racing 525EFI engines, it should run well in the low- to mid-70 mph range.

That's solid top-end performance, though fairly pokey from a company that has built quad-piston-engine and twin-turbine-engine catamarans capable of topping 180 mph. But the 420 MC is all about passenger comfort and seating, designed to be a smooth-riding social platform.

Thanks to the wide bow-flare, the 420 MC has a generous cabin that includes a nearly king-size berth, an L-shaped lounge, and a full complete head locker. There are rear-facing lounges on each side of cabin entry. Aft of that is the double-wide, two-person bench in front of the helm, the backside of which is a rear-facing mirror-image seating arrangement. The rear bench and dual sun pads are split with a teak walk-through—the entire sole of the boat is finished in teak—to the integrated swim platform.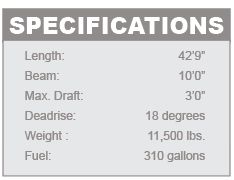 "The whole emphasis of this boat is creature comfort," said Sobo. "The 420 has a 10-foot beam, so we had lots of space to work with."

The first 420 MC had a buyer almost a year before it was actually built. The new owner, a Norwegian, decided to buy the boat during the 2011 Miami International Boat Show based on a scale model and the overall concept. Before he took delivery of the boat ("He wanted to wait for the ice in the fjords to thaw," said Sobo), the boat was displayed in Germany at the 2012 Dusseldorf International Boat Show.

Sobo said that while Nor-Tech hopes the 420 MC (which has a base retail price of $600,000), will attract buyers in the United States, his primary target is the European market. "The boat just begs to be around the Cote d'Azur," he explained. "The owner is actually planning on using it in the Monaco area this summer."

For more information, visit Nor-Tech Boats.

Stay tuned for our review of the Nor-Tech 390 Sport Open.

—Matt Trulio