See more articles
Nordic Tug 37: Used Boat Review
They gave up a sailboat for her, and now their 37 foot trawler yacht is the perfect boat for this couple's lifestyle.


The switch from sail to power can mark a sea change in a boating life, and it comes with both foreseen and unforeseen consequences. But there's one aspect Tom Davis and his wife, Vicky, never considered when they went from a 33-foot sloop to a 37-foot powerboat.

"We had all this foul-weather gear from the sailboat, and we haven't had to use it since we bought the powerboat," says the 64-year-old retired machinist. "And we still go out in the same kinds of weather."

But that's OK. The cruising couple is getting more out of their boating days now, going farther afield, seeing more in less time and with less stress. Their Nordic Tug 37, a 2000 model they bought in 2004, is comfortable, roomy enough for two couples, and capable of staying out for extended periods of time. In short, it's just what the Davises were hoping for.

"The idea is to find the right boat for where you are in life," says Davis. "When I was about 25 or so, I'd get some friends together and go out all weekend on a 25-foot sailboat." That was fun, he says, but the Nordic Tug is proving to be the perfect boat for now.

"We really, really like this boat," he says.

And Davis knows a thing or two about boats. He grew up boating on Long Island Sound and in the rivers and coves near his Ansonia, Conn., home. He has owned a variety of paddle, sail and power craft. Davis had the 33-foot sloop when he saw his first Nordic Tug several years ago. He liked the look, he says, but didn't think much more of it.



Then came an open house arranged by Nordic Tugs dealer Wilde Yacht Sales in Essex, Conn. It was January, and friends were visiting in order to take a look at a Nordic Tug 32. There was a used 37 in a nearby shed, and Davis "wandered over" to take a look. "Sometimes you walk into something, and you say, 'This is for you,' " Davis says. "That's what happened here."

They liked the boat so much that they couldn't let it go. The tug was in turnkey condition, and the price was around $300,000. "I started working it out in my mind, and we looked at all the paperwork, and we mulled it over for a month," Davis recalls. "We realized that if we wanted it to the exclusion of everything else, we could do it."

It all fell into place. "We happened to sell our sailboat in nine days, and we even got the asking price for it," Davis says. "We worked out the details, and we were able to buy the Nordic Tug. And we've been happy with it from the day we got it."

Performance and comfort are the reasons why. The single diesel offers speed, range and fuel economy, and the layout is ideal for the kind of cruising the Davises enjoy. They have their own stateroom with an adjacent head compartment with a shower, and the galley is "up" in the saloon, which is handy as well as more social.

The couple's Nordic Tug 37 was well-tested on a two-week cruise to Maine with another couple, running from New London, Conn., through the Cape Cod (Mass.) Canal to Portsmouth, N.H., and on to York, Maine. Another voyage took the Davises to Cape Cod via Block Island, R.I., and Martha's Vineyard, Mass. "It's a very comfortable boat to stay on for a long period of time," says Davis.

Power for the semidisplacement vessel comes from a 330-hp Cummins diesel. At 2,000 rpm, it burns about 5 gallons per hour at 10 to 12 knots, says Davis. Top end is about 17 knots at 2,600 rpm. "This boat can boogie if it has to," he says. The engine room is spacious, and the systems are easy to get to and simple to deal with, says Davis, a confirmed do-it-yourselfer who maintains the boat. "That's a sign of a well-made boat."

A couple of longer voyages loom in Davis' imagination, as he contemplates the boat's cruising capabilities.

"We have some friends who are leaving for the Great Loop next year, and we would love to tag along," he says. "And I'd really like to take it down the ICW." On a trip like that, he might even get the chance to use that foul-weather gear.

WALKTHROUGH
Designed by Lynn Senour, the Nordic Tug 37 rides a semidisplacement hull with a full keel and hard chines. Like the Pacific Northwest trawlers Senour was borrowing from, the 37 has a tall, plumb bow with little flare. It's surrounded by a bow pulpit, and bulwarks extend from the foredeck aft to the cockpit along a long, graceful sheer. The pilothouse design puts the steering station to starboard behind a triple-pane windshield. The opening side deck doors are a popular Nordic Tug feature.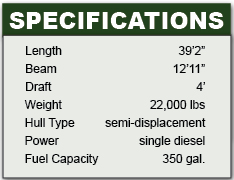 The 37 comes in one- and two-stateroom versions, both of which start with an island berth "down" in the forward master stateroom, with an adjacent head compartment that includes a separate shower. The second enclosed cabin is "down" and to port, and can be set up as a berth or an on-board office. The saloon has an L-shaped dinette (convertible to a berth) to port, and the galley up is to starboard.

Standard equipment includes a three-burner stove, refrigerator/freezer and microwave. Nordic Tugs are easily found in the Pacific Northwest and on the East Coast from New England to the Chesapeake. Prices seem to vary little between the regions. A 2001 model was selling in Maryland for $320,000; in Washington state, the same vintage boats were listed for $325,000 to $330,000. Newer models range from around $400,000 and up. A 2005 model was selling in New England for $395,000, while a 2006 boat was selling for $468,000 in the Chesapeake.

Read a used boat review of the Nordic Tug 39

For information about current models, visit the Nordic Tugs website.



Steve Knauth is a contributing writer for Soundings Magazine. This article originally appeared in the April 2009 issue.