See more articles
J/Boats J/24: Oldie But Goodie
J/Boats J/24 remains a popular, reliable racer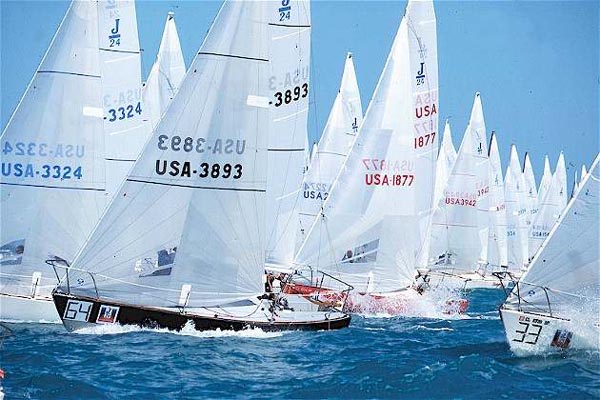 When it first hit the marketplace the J/24 was relatively inexpensive. A mere $15,000 would buy you a new boat and get it on the water. That fact, aided by very astute marketing by Bob Johnstone, built the class in a hurry. As soon as a reasonably large fleet was sailing, J Boats decided to make them a one-design class. Whether this decision came from being beaten in competition or from a need to protect the investment of owners is a question that only Bob or Rod Johnstone can answer. Detractors say the former, while others say the latter.

Probably the most popular sailboat ever built, the J/24 is now sailed in 26 countries. Today over 5,000 J/24s have been built; but, not all of them have been built at Tillotson Pearson's (TPI) plant in Warren, Rhode Island. Many are built under license in plants all over the world. Consequently, quality can vary.

The boats are built with a balsa-cored laminate in both hull and deck, with vinylester VE8110 resin in the outer skin to prevent gelcoat blisters. The keel is bolted on and weighs 950 pounds The sailing qualities of the J/24 are well known. Consequently, we chose not to discuss sailing the boat, but instead to look at the cost of buying into the present fleet. In doing so, we presumed that nobody would buy a J/24 simply to cruise. They would buy a boat to compete in one-design racing.

Buying a New Boat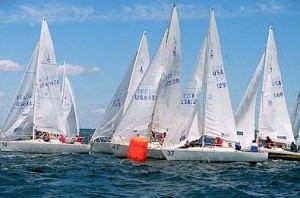 If you decide you want to buy a new J/24 rather than investigating the used market, here's an idea of how much it will cost.

First, you'll need the boat. A standard J/24 FOB the Tillotson Pearson factory in Warren will cost $25,320. There are a few options. A dark hull color adds another $715. The bootstripe adds another $295 (which doesn't seem worth it). J/24 owner and sailer Jeff McDonough of Jamestown, Rhode Island says the two-tone deck at $370 makes the boat look much better, but that's something you'll have to decide for yourself.

In the interior options, you probably should have the electrical package ($570), but the bilge pump ($330) seems overpriced. (A new Whale Gusher 10 bilge pump from West Marine costs $176.95, and a new Amazon Universal Diaphragm pump from West Marine costs $49.95.) The size of the igloo cooler is not mentioned, but $50 seems a bit much. (Quite often, you can find a 48-quart cooler on sale for less than $20 and add a plywood step for a few dollars more.) Regarding the other options, let's say you take the outboard bracket ($195) but you don't bother with anything else. This package, without engine, bilge pump or cooler, adds up to a price of $27,170. For the engine, most people seem to be using a 3.5-horsepower Nissan. West Marine has them for about $750, although you could probably get one cheaper if you shopped around.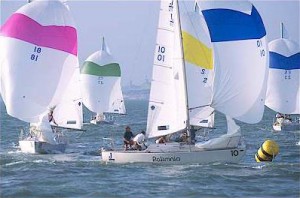 You also need sails. Shore Sails in Newport quoted $1,174 for a mainsail, $1,162 for a 150-percent genoa, $1,080 for a crosscut spinnaker, and $970 for a 100-percent blade jib, for a total of $4,386. North Sails quoted $1,170 for an all-purpose mainsail, $135 for a sail cover, $1,090 for a jumbo crosscut spinnaker, $1,160 for an MG-2 mylar genoa, and $890 for a 6.5 jib, for a total of $4,445.

We checked with Triad Trailers in Connecticut for trailer prices. It recommend that a boat that is going to be trailered over long distances, especially on highways, have a double-axle trailer. A boat that is primarily stored on the trailer over the winter or trailed short distances can use a single-axle trailer. A new single-axle, float-off trailer will cost $2,570, primed and painted; a galvanized version is $2,920. A float-off double-axle primed and painted trailer is $3,210, and a galvanized version $3,560. Lift-off trailers are slightly less expensive. A primed and painted single-axle is $2,110, and a galvanized version is $2,460. A tandem (double-axle) lift-off primed and painted is $2,740; a galvanized version is $3,090. For the purpose of this review we decided that a double-axle lift-off trailer would be best.

The boat should also be optimized for racing — that is, the keel must be faired and moved to its forward-most position. The hull needs fairing and the rudder should also be reshaped to the rule minimums. We obtained a quote for all this work from Karl's Boat Shop on Cape Cod, Massachusetts. The quote covered fairing the keel ($1,650) and rudder ($350), the mast package that fixed the spreaders at the right angles and made the forestay fit perfectly ($350), an extra light motor mount ($125), teak foot chocks ($40) and a new KBS traveller bar ($150). The total tuning job came to $2,665.

Then we decide that we needed a windex ($40) and a hand-held VHF. We chose the ICOM M9 ($549 retail), but other units can be bought at a discount store for around $250. We also wanted a loran and decided upon a Micrologic Supersport ($495 retail). Finally, we chose a KVH datascope compass, which retails for $445 but can be purchased for $374. The retail price of the instrument package came to $1,529, but if you shop carefully, you could fit out the boat with electronics for under $1,000.

Adding the entire package together comes to $39,240.

Remember, too, that if you intend on racing a used boat you will have to invest in new sails, a bottom job and, possibly, electronic instruments. These will add to the price of the overall package.

Buying a Used Boat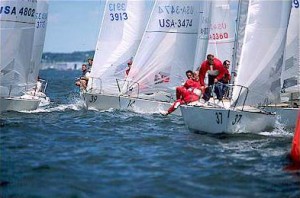 Yacht brokers have lists of J/24s all over the country. Note, however, that many brokers do not spend a lot of time with smaller boats. When working with a broker, try to find one who specializes in the type of boat you are looking for and with whom you feel comfortable. Since most brokers have access to pretty much the same lists of boats, there is little to be gained by going to several brokers simultaneously. Other ways to find a used J/24 are to contact your local fleet captain and ask if any local boats are on the market, or obtain a copy of J/24 International magazine and look in the classified section at the back.

Boat prices should give you some indication of the value of the boat and its gear. Look for signs of repairs to the deck. Quite often, deck fittings may have been moved and water may have gotten into the balsa-cored deck. Balsa wood won't rot when it is totally encapsulated by fiberglass; but if holes have been drilled and not plugged properly, rot can start and spread quickly. Several J/24s have had this problem, which has had to be fixed.

Other problems that you should check for are



tiny cracks at the aft and forward end of the keel. These could be an indication that the boat has hit the bricks. While inspecting this area, look also at the hull-keel joint. This joint should not be overly-visible.


signs of strain on the rudder and rudder pintle attachments. This can mean that the rudder has hit something (such as a lobster pot line) and been stressed. Find out if the rudder is the old style or a new one. The older rudders are thicker and less efficient. Since 1986, TPI has built all rudders to minimum thickness. You should invest in a new style rudder if you intend to race the boat.


a rough bottom center seam, which indicates both that the boat may not have been optimized for racing and that this is work you'll have to do.


signs of stress on all the stanchion bases.


whether or not the keel has been optimized. It should be at minimum thickness and as far forward as possible. If it isn't, this is work you'll have to do for optimum performance.


any flaws in the mast. Corrosion can start at the base and bubbling paint is the first sign of corrosion. Check also the corners of any holes in the mast. Masts that are bent often tend to have stress cracks around any sharp corners. While you are looking at the mast, look at the sheaves. Sharp edges on any sheaves means they will need replacement.



If you intend to optimize the boat for racing, you should look for other features and add certain items to your budget:



Find out if the hull has been faired by an expert. Generally, expertly faired hulls are smoother and have no ripples or bumps that can disturb laminar flow.


The keel and rudder should be perfectly faired to the rule optimums.


The deck gear should be up-to-date and positioned for racing.


The weight of the boat should be checked against the original weight. All boats, not just J/24s, tend to get heavier over the years as more gear creeps aboard, water is absorbed by wood or even fiberglass, and additional parts are screwed down. You should have a program to reduce weight whenever possible.


Check the sails. You will probably have to invest in a new suit to be competitive with the top sailors.


You should also be prepared to add a windex (if the boat doesn't already have one), a loran, a hand-held VHF and a good racing compass.



If you ask what the boatyard charges per hour for other necessary repairs, and add in the price of materials, you should be able to get a rough estimate of the total cost.