See more articles
Outboard Expert: 2011 Crestliner 1850 Pro Tiller Review
Tiller boats never went away, but three new Crestliner models provide a nice update.
Settle into the helm seat of the new Crestliner 1850 Pro Tiller and you immediately appreciate the key benefit of a tiller-steer fishing boat – the wide-open interior that offers unobstructed fishing access. As the name implies, this new model is aimed at old-school anglers who appreciate the benefits of a tiller-steer outboard over a boat with a console: chiefly more space in the boat and finer trolling control. Tiller boats never went away, but over the past twenty years, big motors and tournament fishing converted a lot of walleye anglers to console boats with remote steering.





Now, according to Crestliner, there's renewed interest in tiller steering, due mostly to the 2008 introduction of the Mercury Big Tiller with hydraulic power steering, which makes it more comfortable to confidently handle a boat with a mid-size motor and tiller steering. The Crestliner 1850 I ran for this story had a Mercury 90 four stroke with the power-steering feature, and it was fabulous. The hydraulic system is really invisible when you run the boat, but cancels all prop torque when the motor is trimmed out at 40 mph. No Popeye arms are required to run this boat safely.



Crestliner will offer three new models in the Pro Tiller family, ranging in length from 16 feet 8 inches to the 18-foot 8-inch model I ran. These premium models in the Crestliner line will replace Fish Hawk tiller models of about the same size.

Crestliner worked hard to put all fishing amenities within reach of the angler sitting at the tiller position. There's a bait well under your right elbow on the inwale. A 29-gallon livewell is placed to the left in the aft deck. A large electronics console faces the helm from the port gunwale area with a slide-out that makes it easier to reach a fish locator; it has room for two larger electronics units. Engine instrumentation also mounts on this console.



Rod stowage includes a compartment to starboard for eight foot sticks, while tubes in a central compartment in the forward deck will handle seven foot rods. Three people could fish from the forward deck without bumping elbows, as it stretches from the bow to almost the center of the boat. There are two locking stowage compartments in the bow, a large dry compartment, a 24-gallon livewell, and a small bait well in the bow peak.



This is a premium model from a premium brand, and two details on this boat brought that home for me. The first is the gunwale cap, a 4.5-wide polished aluminum extrusion that looks classy, promises to be durable, and is strong enough to support mounted downriggers, according to Crestliner. Another example of Crestliner's attention to detail can be seen in the construction of the optional storage drawers that can be placed under the helm console and the aft edge of the forward deck. Each is lockable and moves on stainless steel sliders that won't corrode over time. The drawer body is finished with a coating called Crest-Liner, a sprayed-on plastic material that's sort of like pickup truck bed liner. The same stuff is used on the underside of hatch lids and the bottom of the bow stowage compartments. It looks good, won't scratch or wear like paint, and it helps deaden sound.



We had a great day to test the 1850 Pro Tiller in Minnesota – clear skies, fall colors, and a brisk north wind whipping up a nasty chop on the lake. The ride was outstanding in these conditions, and the boat's reverse chines did a good job keeping spray to a minimum. The 1850 has 17 degrees of deadrise at the transom and a variable deadrise that gets deeper forward to help the boat cut through chop and track well at trolling speeds.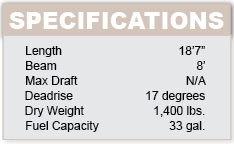 Crestliner is advertising the 1650 Pro Tiller at $14,695 with a Mercury 50 four stroke and a trailer. The 1850 Pro Tiller is offered with either a Mercury 90 four stroke ($27,141) or a Merc 90 Optimax two-stroke outboard ($26,930) with the Big Tiller control. Add Big Tiller power steering to either motor for about $2,400 more. A ShoreLand'r bunk trailer is included.

For more information on performance data, see the Mercury Boat House Bulletin for the Crestliner 1850 Pro Tiller.



Charles Plueddeman is Boats.com's outboard, trailer, and PWC expert. He is a former editor at Boating Magazine and contributor to many national publications since 1986.